Hawkeye Fan Shop — A Black & Gold Store | 24 Hawkeyes to Watch 2016-17 | Hawkeyes in the NBA | Hawk Talk Monthly — Dec. 2016
By RICK BROWN
hawkeyesports.com
IOWA CITY, Iowa — There was trouble brewing in River City. But thanks to a German export, the University of Iowa's men's basketball team dodged a Sunday upset at Carver-Hawkeye Arena.
 
Down by nine points to Rutgers with less than 10 minutes to play, someone flipped a switch. UI head coach Fran McCaffery knew who did it. No mystery there. It was Dom Uhl.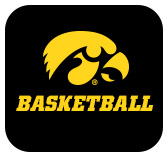 "Him," McCaffery said. "Yeah, it was him."
 
Uhl, a 6-foot 9-inch junior forward from Frankfurt, Germany, has struggled to find a consistency to his game this season after a promising sophomore campaign. But he came through in the clutch Sunday.
 
"I know what I'm capable of," Uhl said after scoring a season-high 10 points, grabbing eight rebounds, and blocking a career-best five shots to help his team improve to 2-2 in the Big Ten and 10-7 overall. "I feel like I can play like that every day. Play aggressive, and play with intensity and energy."
 
Uhl, who started the first six games this season and had a total of three blocks entering play Sunday, stepped up when things looked bleak. In the final 10 minutes, Uhl triggered the comeback by making 5-of-6 free throws, grabbing four rebounds, and blocking three shots.
 
"I was so proud of him," McCaffery said.
 
McCaffery regretted not playing Uhl more than the six minutes he got in Thursday's double overtime loss at Nebraska.
 
"He could have hung his head, but he had a terrific practice (Saturday)," McCaffery said.
 
Uhl played 23 minutes Sunday, his most time on the floor in 11 games. And they were an extremely productive 23 minutes.
 
"I just thought he earned the opportunity to get more minutes and that's the reason we won," McCaffery said.
 
Uhl averaged 17.2 minutes a game last season, 6.0 points and 3.6 rebounds while shooting 45 percent from 3 (27-for-60).  He had averaged 16 minutes, 4.4 points, and 3.9 rebounds while shooting just 20 percent (5-for-25) from 3 entering the Rutgers game.
 
"My shot just hasn't been falling," Uhl said. "I've just tried to stay positive, and keep shooting."
 
Two hours before Sunday's game, Uhl was on the floor getting up jump shots.
 
"Just trying to find my shot," he said.
 
His first made field goal Sunday was a 3-pointer, his first in six games and just his second over the last 11 games.
 
"He's here two hours early and working and he whacks a 3 as soon as we put him in," McCaffery said.
 
That triple also brought some energy and confidence to Uhl's game that came in handy down the stretch.
 
"I just keep working on my game," Uhl said. "I talk to my friends, family, coaches, and they tell me to stay positive."
 
Uhl talks to his mother, Natascha, back in Frankfurt via Face Time. She also came to Iowa City for the Dec. 22 game against Delaware State. The family he lived with when he played two seasons at Point Pleasant Beach High School in New Jersey have also been supportive. That family was on hand to see Uhl play Sunday.
 
McCaffery, in his 21st season as a Division I head coach, has had players struggle to find their game before.
 
"Sometimes you leave them alone, sometimes you sit them down, sometimes it's one or two encouraging things," McCaffery said. "When it's all said and done, it will always be a positive approach to that situation."
 
Uhl's effort level has never been in question, McCaffery said.
 
"We have all seen him play this well and it will be a big impact on our team if he continues to do that," McCaffery said.