Hawkeye Fan Shop — A Black & Gold Store | 24 Hawkeyes to Watch 2016-17 | Hawk Talk Monthly — Jan. 2017 | 24 Hawkeyes to Watch: Sammy Brooks | Q & A with Sam Stoll | Notebook in PDF Format
STILLWATER, Okla. — The third-ranked University of Iowa wrestling team lost to top-ranked Oklahoma State, 24-11, in front of 7,809 fans at Gallagher-Iba Arena on Sunday. Iowa scored bonus points in two matches but lost three one-point decisions to lose for the first time in four meetings with the Cowboys.  
 
"This sport is wild. It's a brawl. That's what you love about it," said UI head coach Tom Brands. "It's about close matches in close situations and you have to make them go your way. In order to make a close situation go your way, it's not because it's this close that's all the effort you have to give, you have to give a tremendous effort. We didn't do that."
 
Iowa jumped in front 4-0 with bonus points at 125 pounds.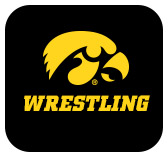 Top-ranked Thomas Gilman scored takedowns in the final minute of both the first and second periods and led No. 11 Nick Piccininni 4-2 going into the third. He turned up the pace and scored three takedowns in the final period, adding 2:30 of riding time to earn a 12-4 major decision.
 
Oklahoma State won the next three matches to take a 9-4 lead after 149 pounds.
 
One second of riding time was the difference between overtime and a 7-6 Hawkeye loss at 133 pounds. Fifth-ranked Kaid Brock scored the bout's first two takedowns and led 5-0 before top-ranked Cory Clark rallied with a takedown and escape to cut the lead to 6-3 after two periods. Clark escaped to open the third period and tied the match, 6-6, with a takedown, but Brock wiggled free for the deciding point and Clark's riding time stalled at 59 seconds. .  
 
No. 18 Topher Carton battled top-ranked Dean Heil for seven minutes, scoring a takedown with 11 seconds on the clock, but the defending national champion escaped and added a point for riding time to win 8-5 at 141.
 
Second-ranked Brandon Sorensen and third-ranked Anthony Collica traded three escapes through 11 minutes of wrestling, and when the clock expired Collica owned a two-second advantage in riding time to win 4-3 after two sudden victory periods.
 
Iowa got back on the board at 157 pounds. Second-ranked Michael Kemerer scored a takedown in the opening minute and used two escapes to earn a 4-3 decision against sixth-ranked Joe Smith. Kemerer improved to 19-0 and has three wins over top 10 opponents in his last four matches.
 
"With the schedule we wrestle I know I have to be ready no matter who I'm wrestling," said Kemerer. "For me it's about thinking about myself and doing the things I do well. It doesn't matter who is out there."
 
Oklahoma State extended its lead to 15-7 with bonus points at 165, where sixth-ranked Chandler Rogers pinned Skyler St. John in 2:18. The Cowboys pushed their lead to 18-7 when 13th-ranked Alex Meyer dropped a 5-2 decision to No. 5 Kyle Crutchmer.
 
Iowa chipped into the team lead at 184 pounds when sixth-ranked Sammy Brooks gave Iowa its second bonus-point victory, totaling 13 points after a scoreless first period to defeat fifth-ranked Nolan Boyd by major decision, 13-3. Brooks recorded a takedown and four nearfall in both the second and third periods, adding 1:12 of riding time to defeat his third ranked opponent of the season and improve to 16-1 overall.
 
"I'll give him some kudos. Boyd's a guy I enjoy wrestling because I know he is going to go out and wrestle hard," Brooks said.  "Coming in it was about getting myself ready knowing that I'm going to be in it for seven minutes. When I'm feeling good I like where I'm at."
 
The Cowboys clinched the dual with a 6-0 decision at 197, and ended it with another one-point decision, their third of the dual, at 285. Cash Wilcke trailed 1-0 in the third before giving up nearfall and a point for riding time in the final minute, falling to fourth-ranked Preston Weigel at 197. Sixth-ranked Sam Stoll surrendered a takedown in the closing seconds to fall, 5-4, to ninth-ranked Austin Schafer.
"I think every time out is a measuring stick," said Brands. "I would agree (with Coach John Smith) that  when you  get into this one ranked team against another that the stakes  are higher and it's going  to  be a national scene to see where you're  going  to be  in March and we have a long way to go.
 
"Our guys are going to go forward with this. Five days from now we have Penn State coming in and regardless if we win this dual we're in the same boat, except you won the dual meet. We have to get ready to go. "
Iowa (7-1, 3-0) returns to the mat Friday, Jan. 20, hosting No. 2 Penn State at Carver-Hawkeye Arena at 8 p.m. (CT).  Fans are encouraged to purchase tickets in advance by contacting the UI Athletic Ticket Office at 1-800-IA-HAWKS or online at hawkeyesports.com. Tickets are $15 for adults and $10 for youth 18-years and younger. UI students are admitted free, but everyone must have a ticket. The ticket office is expecting a sellout, so students are encouraged to reserve their seats in advance by contacting the UI Athletics Ticket Office.
 
NOTES: Attendance was 7,809… the loss snapped Iowa's three-game win streak in the series… Gilman improved to 16-0 with 15 bonus point victories… Kemerer has three top 10 wins in his last four matches… Brooks has scored bonus points in 12 of his 16 wins, he has four wins over ranked opponents.
 
#3 Iowa 11, #1 Oklahoma State 24
125 — #1 Thomas Gilman (IA) major dec. #11 Nick Piccininni (OSU), 12-4; 4-0
133 — #5 Kaid Brock (OSU) dec. #1 Cory Clark (IA), 7-6; 4-3
141 — #1 Dean Heil (OSU) dec. #18 Topher Carton (IA), 8-5; 4-6
149 — #3 Anthony Collica (OSU) dec. #2 Brandon Sorensen (IA), 4-3 SV2; 4-9
157 — #2 Michael Kemerer (IA) dec. #6 Joe Smith (OSU), 4-3; 7-9
165 — #6 Chandler Rogers (OSU) pinned Skyler St. John, 2:18; 7-15
174 — #5 Kyle Crutchmer (OSU) dec. #13 Alex Meyer (IA), 5-2; 7-18
184 — #6 Sammy Brooks (IA) major dec. #5 Nolan Boyd (OSU), 13-3; 11-18
197 — #4 Preston Weigel (OSU) dec. Cash Wilcke (IA), 6-0; 11-21
285 — #9 Austin Schafer (OSU) dec. #6 Sam Stoll (IA); 5-4; 11-24
Iowa (7-1, 3-0)
Oklahoma State (6-0, 1-0)