Hawkeye Fan Shop — A Black & Gold Store | 24 Hawkeyes to Watch 2016-17 | Hawk Talk Monthly — Jan. 2017 | 24 Hawkeyes to Watch: Sammy Brooks | VIDEO — Cory Clark | Iowa-Ohio State Tickets | Notebook in PDF Format
By DARREN MILLER
hawkeyesports.com
IOWA CITY, Iowa — Iowa's Cory Clark is on a mission. So is Ohio State's Nathan Tomasello. But for the first time in their wrestling careers, two of the best wrestlers in the country will have their missions meet when third-ranked Iowa hosts fourth-ranked Ohio State on Friday on Mediacom Mat.
 
Clark, a senior, is a two-time NCAA runner-up and the defending Big Ten champion at 133 pounds. Tomasello, a junior, won a 125-pound national title in 2015 and has two Big Ten titles to his credit. The Buckeye jumped up a weight class this season and is the consensus No. 1 wrestler at 133; Clark is ranked second or fourth.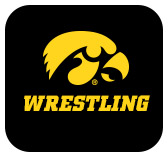 "It's a little bit of clash of styles, but both guys wrestle hard," Iowa head coach Tom Brands said. "Maybe you could classify Tomasello as straight forward, Clark maybe a little bit more scrambly. We have to be ready to wrestle seven minutes and we will be."
 
There are two battles between top five competitors when No. 4 Ohio State visits Carver-Hawkeye Arena. At 149 pounds, Iowa junior Brandon Sorensen (17-2) looks to bounce back from consecutive one-point losses when he faces Buckeye sophomore Micah Jordan (21-0). But the real fireworks should come two bouts earlier between Clark (10-1 this season, 88-13 in his career) and Tomasello (10-0, 90-5).
 
"It's just another opponent, but with kind of an exclamation point on it," Clark said. "Tomasello has proven that he is solid with good fundamentals and he can wrestle. I have seen him wrestle a lot, but I have never wrestled him. He has always been one weight below me even back in high school."
 
For the last two seasons, Iowa senior Thomas Gilman has butted heads against Tomasello. Gilman won 2-1 in overtime in the first meeting in 2015, but lost 3-2 in the finals of the 2015 Big Ten Championship. Last season Gilman pinned Tomasello in 7:37 in the NCAA semifinals.
 
"If (Clark) is going to go out there and beat (Tomasello), he's going to have to go out there and wrestle him hard," Gilman said. "He's a tough guy and competitor. I have a lot of respect for him; if Clark wants to win, he has to wrestle hard, there is no magic formula. If he expects to ride him and eek it out, it isn't going to work."
 
Tomasello hasn't missed a beat since adding eight pounds. Four of his victories have come against opponents ranked in the top 18, including a 12-4 major decision over No. 4 Zane Richards on Illinois, the 2016 Big Ten runner-up to Clark. Clark pummeled Penn State's George Carpenter by 19-4 technical fall in his last outing Jan. 20, five days after being upset by Oklahoma State's Kaid Brock, 7-6.
 
Clark spent the first 11 weeks of the season ranked No. 1 in the country, Tomasello the last two.
 
"He is ranked first now, so beating the No. 1 guy is what you have to do," Clark said. "You always have to beat the guy that is the best. It makes sense how this one would mean a little extra because he is No. 1 and undefeated. It should be a good one."
 
Friday's dual begins at 7 p.m. (CT). The Hawkeyes lead the all-time series, 38-3, including an 18-14 win at Ohio State in 2015. To purchase tickets, click HERE.