Hawkeyes in the NBA | 24 Hawkeyes to Watch | Hawk Talk Monthly — January
By JAMES ALLAN
hawkeyesports.com
IOWA CITY, Iowa — The University of Iowa men's basketball team is focusing on playing a complete, 40-minute game Saturday night in Carver-Hawkeye Arena.
 
The Hawkeyes (11-10, 3-5) host Ohio State (13-8, 3-5) in the lone meeting of the season in a rare Saturday night contest on Mediacom Court. Tipoff is scheduled for 7 p.m. (CT) and it will be televised on ESPN2.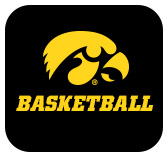 Iowa is focused on playing 40 minutes because the opening four-minute stretches in each of the last three games have been detrimental in three straight defeats.  The Hawkeyes fell behind 8-0 at Northwestern, 8-0 versus Maryland, and 10-0 at Illinois.
 
"We need to have energy right out of the gate," said freshman Jordan Bohannon. "The main thing is being more consistent at the start and then putting all 40 minutes together.
 
"If we don't have those bad starts, we're playing pretty decent to end the games."
 
UI head coach Fran McCaffery says the starts are part of the team's inconsistencies, but they've popped up at various stages in games.  Iowa fought back to take a three-point lead against Maryland with three minutes remaining before the Terrapins surged to victory.
 
"We're trying to develop consistency for 40 minutes, which hasn't happened a lot," said McCaffery at a Friday news conference. "It's not uncommon for a young group, but we have fought hard and I have been proud of those guys at times."
 
Iowa will look to change the tune against an Ohio State team that has won three of its last four games after opening Big Ten play with four consecutive losses.  The Buckeyes have home wins over Michigan State (72-67) and Minnesota (78-72) and a road victory at Nebraska (67-66) during the stretch.  The lone loss was a 74-72 setback at home against red-hot Northwestern.
 
"Ohio State has a lot of talent," McCaffery said. "They play at their pace and like a confident group."
 
Ohio State is winning with balanced scoring as all five starters average double digits. Forward Jae'Sean Tate is averaging 13.9 points and 6.3 rebounds, while JaQuan Lyle (12.3), Marc Loving (11.5), Trevor Thompson (11.0, 9.3 rebounds), and Kam Williams (10.1) are also in double digits.
 
"Lyle has impressed me," said McCaffery. "Thompson has stepped up his game, Tate is good, and Loving has always been a terrific player.  Williams is a guy that I looked at more as a catch and shoot guy, but he's doing stuff off the dribble now that makes him hard to guard.
 
"All their guys go off the dribble now, they all can make 3s.  It's a team that will tax your defense in a lot of ways."
 
Iowa plays two of its next three games at home.  After hosting Ohio State, the Hawkeyes head to Piscataway, New Jersey, for its rematch against Rutgers before hosting Nebraska on Feb. 5.
"We've shown we can play with anybody at our place, but we haven't shown that on the road," said freshman Cordell Pemsl. "These next three games are games we can win and if we are playing the way we should be able to, we can give ourselves a chance. 
 
"It would be nice to get a win tomorrow and get another win back under our belt, work our way into Tuesday, and make a little run to give us confidence as the season winds down."
 
Tickets are available for Saturday's game against Ohio State through the UI Athletics Ticket Office at hawkeyesports.com or by calling 800-IA-HAWKS.