Hawkeye Fan Shop — A Black & Gold Store | 24 Hawkeyes to Watch 2016-17 | Hawk Talk Monthly — Feb. 2017 | 24 Hawkeyes to Watch: Sammy Brooks | VIDEO — Topher Carton
By DARREN MILLER
hawkeyesports.com
IOWA CITY, Iowa — University of Iowa 141-pound senior wrestler Topher Carton and 157-pound redshirt freshman Michael Kemerer are different weights and different ages. But they share at least one thing in common: both agree rankings mean nothing in early February.
 
Ironically, national pollsters feel Carton's bout Friday against Wisconsin freshman Cole Martin should be the most evenly matched of the evening when No. 3 Iowa hosts No. 16 Wisconsin at 7 on Mediacom Mat inside Carver-Hawkeye Arena. Carton (17-5) is rated 17th or 19th, Martin (15-9) is 16th or 19th.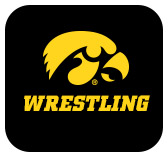 "Michael Kemerer was talking to me about that the other day and he told me these rankings don't mean anything," Carton said. "Nobody remembers where people were ranked Feb. 1, they remember who was on what podium step and who was at the top of the podium (at the NCAA Championships in March)."
 
Martin will be the sixth straight top 20 competitor for Carton, who has lost three in a row by a combined six points. He fell to No. 1 Dean Heil of Oklahoma State, 8-5, to No. 12 Jimmy Gulibon of Penn State, 8-6, and to No. 14 Luke Pletcher of Ohio State, 5-4.
 
"We're in the same boat we were with Ohio State and Penn State and probably how we wrestled the No. 1 guy in the country at Oklahoma State," Iowa head coach Tom Brands said. "It is going to be another match where we have to get to our offense and do the things that we do well."
 
Carton was doing things well during an early January swing through the state of Michigan. He knocked off No. 20 Sal Profaci of Michigan, 8-4, on Jan. 6, and two days later won by 12-2 major decision over No. 16 Javier Gasca of Michigan State.
 
Carton opened the season with 13 consecutive victories and has gone 4-5 since. That has resulted in soul-searching and sleepless nights for the graduate of Davenport (Iowa) Assumption High School.
 
"What it came down to is earlier in the season I was wrestling free and just wrestling," Carton said. "The last couple matches it feels I have been stiffer and looking for that perfect shot and that's when I get slowed down. I need to get back to that mentality of just wrestling and letting the fur fly and the points pile up when the pace is high."
 
Of course it wasn't against Big Ten competition, but in his first four matches, Carton scored 15, 20, and 15 points, and then won by fall.
 
"When I'm wrestling hard and they're wrestling hard, it favors me and it's a lot more fun to wrestle and it's a lot more fun to watch," Carton said. "There is less standing around and I'm more likely to go to my offense when I'm already moving rather than holding and looking for the perfect tie up and perfect set up and the perfect shot."
 
Carton is familiar with Martin. They traveled together to Virginia with Young Guns Wrestling.
 
"It will be fun," Carton said. "He likes to wrestle, I like to wrestle, so we'll go out and let the fur fly."
 
The Hawkeyes will have a quick turnaround after Friday's dual; they compete at No. 13 Minnesota on Sunday at 11 a.m. That dual is televised on BTN.