Hawkeye Fan Shop — A Black & Gold Store | 24 Hawkeyes to Watch 2016-17 | Hawk Talk Monthly — Feb. 2017 | VIDEO — Baseball Media Day | Photo Gallery | Neustrom Earns Preseason Big Ten Honor
By DARREN MILLER
hawkeyesports.com
IOWA CITY, Iowa — Don't be misled if there are six new starters in the University of Iowa baseball lineup when the Hawkeyes open the season Feb. 17 against South Florida. It isn't an indication for reduced expectations.
 
Iowa head coach Rick Heller has his deepest pitching staff ever, there is potential for more power at the plate, and team chemistry is at an all-time high.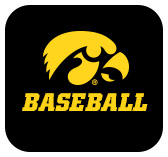 "With 22 new guys, I was a little concerned," Heller said Friday at media day at Duane Banks Field. "Our culture is strong, but there are a lot of new faces. The captains have done an amazing job — guys like Corbin Woods, Mason McCoy, Josh Martsching, and C.J. Eldred did a nice job setting the tone with this team and not letting that culture go backward. The chemistry is as good as any of the teams we have had here in my time. I feel good about the makeup of the team, the leadership has been strong."
 
The Hawkeye culture is a successful one. In Heller's three seasons, Iowa has had three straight winning seasons with victory totals of 30, 41, and 30. The "Hawkeye Way" has been defense (.978 fielding percentage in 2016) and pitching (3.54 team ERA) and Heller expects that to continue.
 
"We have played a high level of defense the last three years," Heller said. "We like to talk about hitting and the fact we score runs and have good offensive numbers, but what we hang our hat on and what has enabled us to win a lot of ball games is pitching and defense. That has to stay consistent with the quality arms that we have."
 
Junior Nick Gallagher earned the Friday starting spot in the rotation after going 8-3 with a 2.57 ERA last season. He started just four of his 14 appearances, but the late bloomer has literally grown into the ace role.
 
"He has great stuff, as good as anybody in the Big Ten," Heller said. "He has a plus, plus breaking pitch, his velocity has made a nice jump to the low 90s, and he has a plus changeup. He has a calm demeanor and a good pitcher's makeup."
 
Eldred, another junior, will be the Saturday starter. Heller will use the first series at South Florida to evaluate the No. 3 starter. There are 10 pitchers returning from a staff that posted the second-lowest ERA in school history in 2016 (3.54) with a school-record 382 strikeouts.
 
"We have had good pitching the last three years and we feel this staff might be the deepest from top to bottom," Heller said. "Starting pitching should be solid, the back-end bullpen, the guys we have returning should be good. This year the depth in the middle is probably what makes it a little deeper than the other three years."
 
The top half of Iowa's batting order in the season opener could look like this: junior catcher Tyler Cropley, senior shortstop McCoy (.291-2-34), sophomore rightfielder Robert Neustrom (.307-1-21), junior first baseman Jake Adams, and sophomore Austin Guzzo (.264-3-25) at designated hitter.
 
Cropley and Adams are two of eight junior college transfers.
 
"All of them are doing well and fitting in great," Heller said of the transfers.
 
Freshmen Justin Jenkins and Ben Norman will compete in centerfield while left field will be a battle between Luke Farley, Matt Hoeg, and Chris Whelan. McCoy played third base last season and will now return to his natural position at shortstop.
 
"I have played short my whole life, so it's somewhere I have been comfortable," said McCoy, a two-time all-star in the Northwoods League. "Last year was a little different playing third base, but I'm comfortable moving back to short."
 
The Hawkeyes open the season Feb. 17-19 with a three-game series against South Florida in Tampa, Florida.
 
"Last year we started out rough (with four straight losses) and had to make up for it at the end of the year," Gallagher said. "This year it will go a long way for us if we can get a good start in Tampa and set the tone for the rest of the year. That's what we're trying to do."
 
Iowa's first home game is scheduled for March 7 against Northern Illinois.