Hawkeye Fan Shop — A Black & Gold Store | 24 Hawkeyes to Watch 2016-17 | Hawk Talk Monthly — Feb. 2017 | VIDEO — Baseball Media Day | Photo Gallery | Neustrom Earns Preseason Big Ten Honor
Editor's Note: The following first appeared in the University of Iowa's Hawk Talk Daily, an e-newsletter that offers a daily look at the Iowa Hawkeyes, delivered free each morning to thousands of fans of the Hawkeyes worldwide. To receive daily news from the Iowa Hawkeyes, sign up HERE.
By JAMES ALLAN
hawkeyesports.com
IOWA CITY, Iowa — A good catcher has a way of keeping a pitching staff happy.
 
With Tyler Cropley set to take over as the University of Iowa baseball team's starting backstop, the Hawkeyes' hurlers will be a content group in 2017.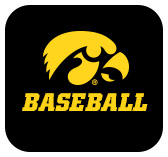 "The biggest thing any catcher can bring to a program is the ability to make your pitchers happy and keep strikes strikes," said UI head coach Rick Heller. "He does a good job of that, and he's a good blocker as well."
 
Iowa pitching coach Scott Brickman says Cropley is a special talent, one that will make the Iowa staff better.
 
"His feel for the game separates him from the majority of the catchers nationally and makes him one of the best," said Brickman. "He does a lot of things normal fans don't see. He frames pitches well, keeps strikes strikes, and steals some pitches for his pitchers.
 
"He is also able to read what hitters are trying to do from pitch-to-pitch in the batter's box with their approach and he controls the running game.  All these little things add up to being a major contributor to the success of our team."
 
Cropley calls his athleticism is his greatest attribute. He has the ability to shed his catching gear and roam the outfield as a center fielder. Heller also has Cropley penciled in as Iowa's leadoff hitter.   
 
"He's an all-around complete player," said Brickman "…in every facet of the game."
 
"He's a different type of catcher," said Heller. "He is really athletic, has a great arm, and can run. The speed factor, the offensive side of this game, and his savvy are all big pluses."
 
During his sophomore season at Iowa Western Community College, Cropley earned first-team all-region honors after hitting .403 with five home runs, nine doubles, 27 RBIs, and 35 runs. He put up those numbers in 37 games; he missed the team's final 30 contests because of injury.
 
"My athleticism is a strength," said Cropley. "I am able to do a lot of different things at any time."
 
During his two-year run at Iowa Western, the Reivers won 106 games and finished fourth at the 2016 NJCAA World Series.  Cropley's Iowa Western teammate, Matt Hoeg, is also in his first year with the Hawkeyes.
 
"We had a strong work ethic (at Iowa Western)," said Cropley. "We were always practicing and doing something (baseball-related). When you get a chance, you have to take advantage of it."
 
Cropley is expected to be one of six first-year starters when Iowa opens the season Feb. 17 in Tampa, Florida. His individual expectations are centered around team results.
 
"I have to do my part," he said. "That's what everybody has to do on this team. If everybody does their part, we'll have a good season."
 
The Hawkeyes will face South Florida in a three-game series from Feb. 17-19 at USF Baseball Stadium. Fans can listen to the action on Hawkeye All-Access with Zach Mackey on the call.