Hawkeye Fan Shop — A Black & Gold Store | 24 Hawkeyes to Watch 2016-17 | Hawk Talk Monthly — Feb. 2017 | 24 Hawkeyes to Watch: Sammy Brooks
Editor's Note: The following first appeared in the University of Iowa's Hawk Talk Daily, an e-newsletter that offers a daily look at the Iowa Hawkeyes, delivered free each morning to thousands of fans of the Hawkeyes worldwide. To receive daily news from the Iowa Hawkeyes, sign up HERE.
IOWA CITY, Iowa — Monday's announcement regarding the NWCA Division I Duals Championship Series signified the end of one season and the beginning of another for the University of Iowa wrestling team.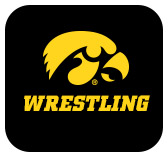 The regular season as we know it is kaput. The postseason is upon us.
 
The third-ranked Hawkeyes finished 12-2 overall and 8-1 in the Big Ten, one dual behind conference champion Penn State. The second-ranked Nittany Lions handed Iowa one of its two losses this season on Jan. 20, preventing a potential rematch with Oklahoma State in the National Duals championship match.
 
The top-ranked Cowboys, who defeated Iowa in Stillwater, Oklahoma, on Jan. 15, hosts Penn State on Sunday for the National Duals title.
 
As a result, the NWCA announced that No. 3 Iowa will wrestle at No. 24 Edinboro on Saturday at 6 p.m. (CT).  It is one of eight matchups in a Dual Championship Series that includes the top eight teams from the Big Ten against eight of the top schools from outside the conference.
 
"There's a lot of history between these two programs," said NWCA Executive Director Mike Moyer. "When Edinboro made its commitment to its wrestling program in the 1980s, there was a lot of Iowa influence there."
 
A win at Edinboro would be Iowa's fourth this season on the road against a ranked opponent. The Hawkeyes won at then-No. 20 South Dakota State, at No. 15 Michigan, and at No. 13 Minnesota.
 
Iowa also has home wins over No. 4 Ohio State and No. 6 Nebraska. The Hawkeyes are the only team in the top 10 to wrestle four of the top six teams in the USA Today/NWCA Division I Coaches Poll.
 
The Hawkeyes are 7-0 all-time against Edinboro and will be the favorite on Saturday, but the Fighting Scots have six ranked wrestlers in their probable lineup and the last time Iowa visited Edinboro in 2013 the Hawkeyes escaped 22-19 winners.
 
"It's a great David and Goliath type of story with Iowa from the Big Ten and Edinboro, a small Division II school in Northwest Pennsylvania," said Moyer. "Wrestling fans know Edinboro as a Division I force in wrestling, but for everything else, Edinboro is Division II."
 
UI head coach Tom Brands doesn't look past any opponent, and that is especially true in the postseason. He also wants his team to learn from past results and be ready to move forward with authority.
 
"I could say it's no big deal and we just stay focused; stay on a routine and what not," Brands said, "but it's that time of year where we have to ratchet it up, and one of the messages we give them is sometimes we have letdowns this time of year. We got beat by North Carolina State last year and beat by Missouri the year before in the National Duals. That's because of a letdown and there can be no letdown."
 
The Hawkeyes have two weeks to prepare for the Big Ten Championships following the National Duals Championships Series.  The conference tournament is March 4-5 in Bloomington, Indiana. The NCAA Championships are March 16-18 in St. Louis.