Hawkeye Fan Shop — A Black & Gold Store | 24 Hawkeyes to Watch 2016-17 | Hawk Talk Monthly — Feb. 2017 | Game Notes — at South Florida (PDF)
| | |
| --- | --- |
| Dates: | Feb. 17-19, 2017 |
| Location: | Tampa, Fla. (USF Baseball Stadium) |
| Game Notes: | IOWA | USF |
| Statistics: | N/A | N/A |
| | |
| Radio/Streaming: | Hawkeye All-Access |
| Live Stats: | Game 1 | Game 2 | Game 3 |
| Video Streaming: | GoUSFBulls.com (Friday) |
| | |
| Game 1 | Feb. 17 | 5:30 p.m. (CT) | |
| Pitching Matchup:  | Iowa: Jr., RHP Nick Gallagher |
| | USF: Sr., RHP Phoenix Sanders |
| Game 2 | Feb. 18 | 5:30 p.m. (CT) | |
| Pitching Matchup: | Iowa: Jr., RHP C.J. Eldred |
| | USF: RS Fr., LHP Shane McClanahan |
| Game 3 | Feb. 19 | 11 a.m. (CT) | |
| Pitching Matchup: | Iowa: So., RHP Shane Ritter |
| | USF: RS Jr., RHP Peter Strzelecki |
THIS WEEK
The University of Iowa baseball team opens the 2017 season with a three-game series at South Florida from Feb. 17-19 in Tampa, Florida. Both Friday and Saturday's games will begin at 5:30 p.m. (CT) at USF Baseball Stadium, while Sunday's finale will start at 11 a.m.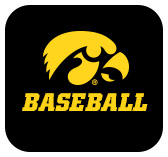 GAME COVERAGE
•  Iowa's live audio stream of the three games will be available on Hawkeye All-Access with Zach Mackey on the call.  Steve Duncan will serve as the color analyst.
• Fans can watch a live video stream of the series opener at gousfbulls.com.
• Live statistics will be available at www.hawkeyesports.com and fans can follow the action via Twitter/UIBaseball.
 
IOWA TIDBITS
• Sophomore Robert Neustrom is a preseason All-Big Ten selection by Perfect Game.  The outfielder is the Hawkeyes' top returning hitter, batting .307 as a true freshman.
• Senior Mason McCoy enters the 2017 riding a career-best 13-game hitting and on-base streak. 
• The Hawkeyes are picked to finish in a tie for sixth place in the Big Ten in a vote of the league's 11 head coaches. Iowa is also tabbed to finish eighth in the conference by Perfect Game and ninth by D1Baseball.com.
• Sophomore Shane Ritter will make his first career weekend start Sunday at South Florida.  Ritter has two games in his collegiate career, including the semifinals of the Big Ten Tournament against Maryland, where he allowed three hits in three shutout innings.
 
USF NOTABLES
• South Florida went 24-33 during the 2016 season, which included posting a 17-18 record at home.  The Bulls were 8-16 in the American Athletic Conference, tying for seventh place.
• The Bulls return eight starters, 22 letterwinners, and 2/3 of their starting rotation.
• USF is picked to finish sixth in The American preseason coaches' poll.
• Shortstop Kevin Merrell is USF's top returning player after hitting .320 with 22 RBIs and 22 runs scored as a sophomore.   Merrell is a preseason AAC all-conference selection after leading the team in batting average in each of the past two seasons and swiping 37 bases.
• USF will start senior RHP Phoenix Sanders (5-5, 4.15 ERA in 2016) on Friday, redshirt freshman LHP Shane McClanahan will pitch  on Saturday, and redshirt junior RHP Peter Strzelecki will start the series finale. 
 
SERIES RECORD
• Iowa is 0-2 all-time against South Florida, meeting the Bulls for two games during the 1991 season.  USF won by the margins of 11-0 and 10-8.
 
APPROACHING 800 IN YEAR 30
UI head coach Rick Heller enters his 30th season as a college head coach needing just nine victories to join the 800-win club.  Heller is the winningest coach in his first three seasons in program history.
 
3 HAWKEYES NAMED B1G PRESEASON HONORS LIST
Senior Mason McCoy, junior Nick Gallagher, and sophomore Robert Neustrom have been named to the Big Ten preseason honors list. McCoy and Neustrom are returning starters, Gallagher is taking over as Iowa's Friday night starting pitcher.
 
OFFENSIVE OPPORTUNITY
• There will be at least six new starters in the lineup when the Hawkeyes take the field for the season opener  Feb. 17 at South Florida. 
• Senior Mason McCoy is making the move to shortstop after being the everyday third baseman in 2016, while sophomore Robert Neustrom returns in right field.  Neustrom hit .307 with 21 RBIs as a freshman; McCoy hit .291 with 12 doubles and 34 RBIs.
• Sophomore Mitchell Boe returns after being a part-time starter in 2016, while junior Austin Guzzo started 30 games last season, primarily at designated hitter.  Both are in position battles this spring.
• Offensively there is opportunity as the Hawkeyes return less than 50 percent of their production in every major category in 2017.  Iowa returns 41.5 percent of RBIs (117-282), 41.7 percent of triples (5-12), 39.5 percent of runs (126-319), 34.8 percent of hits (188-541), 30.8 percent of home runs (8-26), and 24.2 percent of steals (24-99).
 
PITCHING DEPTH
• Iowa's pitching will be the strength of the 2017 roster with 10 pitchers returning from a staff that posted a  3.54 ERA — the second-best in program history — and broke the single-season strikeouts record (382) last season.  The Hawkeyes have set the program ERA record in each of the past two seasons under pitching coach Scott Brickman.
• The Hawkeyes have two No. 1 starters in junior Nick Gallagher and C.J. Eldred.  Gallagher will take the ball as the Friday starter after going 8-3 with a 2.57 ERA last season, while Eldred (3-8, 3.43) will slide into the Saturday role.   
• Senior Josh Martsching (2-1, 2.41, 4 saves) and sophomore Zach Daniels (1-1, 1.50 ERA, 5 saves) return to share Iowa's closer position.
• The Hawkeyes have 76.7 percent of their wins (23-30), 90.9 percent of saves (10-11), 68.8 percent of innings (341 of 495 1/3), and 70.7 percent of strikeouts (341-495) back for 2017.
 
NEWCOMERS ABOUND
Iowa's roster is littered with new faces for the 2017 season as 18 newcomers joined the program in August.  Several newcomers are vying for starting roles.
• Tyler Cropley is penciled in as Iowa's starting catcher after transferring from Iowa Western Community College. He was a first-team all-region selection after hitting .403 with five home runs, nine doubles, and 27 RBIs.
• Three freshmen — Justin Jenkins and Ben Norman in center field and Kyle Crowl at third base — are in contention for starting positions, while Chris Whelan and Matt Hoeg are both candidates to start both at infield and outfield positions. Whelan hit .299 with 30 RBIs at Parkland College, while Hoeg was an honorable mention All-American at Iowa Western after hitting .425 with 60 RBIs in 2016.
 
INSERT BIG BOPPER
The Hawkeyes will insert a power-hitting threat in the middle of the lineup in junior Jake Adams.  The South Dakota native will take over first base duties after hitting 25 home runs last year during an All-America season at DMACC.  As a team, Iowa hit 26 home runs in 2016.
.• In two junior-college seasons, Adams hit 42 career home runs — a DMACC record.  He was among the nation's leaders in home runs, slugging percentage and total bases.
 
MCCOY SLIDES TO SHORT
Senior Mason McCoy will slide to his left and take over as Iowa's starting shortstop in 2017.  McCoy started all 56 games as a junior, primarily at third base.  He hit .291 with 37 runs and 34 RBIs, and was a member of the Big Ten All-Tournament team. 
.• McCoy was an Northwest League All-Star selection in both 2015 and 2016, playing for the La Crosse Loggers.
.• Iowa has had an all-conference selection at shortstop in each of Rick Heller's first three seasons.  (Jake Yacinich, first-team, 2014; Nick Roscetti, third-team, 2015, first-team, 2016).
 
JUNIOR NICK GALLAGHER
.• is 8-3 with a 2.47 ERA in 23 career appearances, including nine starts.
• will make his first career Friday start in the series opener at South Florida.  Gallagher made one Saturday and three Sunday starts in 2016.
.• tied for second in the Big Ten with eight victories as a sophomore, which were the sixth-most in a single-season in program history.
.• was named to the Big Ten All-Tournament team after allowing one hit over six innings and fanning a career-high nine in a victory over Maryland.
 
JUNIOR  C.J. ELDRED…
.• is 3-8 with a 3.43 ERA in 16 career appearances (14 starts).
.• logged a team-high 94 1/3 innings as a sophomore — the 10th-most in a single season in school history.
.• had a team-best seven quality starts with two complete games in 2016.
• is the son of former Hawkeye first round MLB Draft pick and Major Leaguer Cal Eldred.
 
IOWA'S BACKBONE
The Hawkeyes have been built on pitching and defense under UI head coach Rick Heller. 
.• Iowa has ranked in the top 14 nationally in the nation in team fielding percentage in each of the past two years.   The Hawkeyes have been in the top four in the Big Ten throughout Heller's tenure.
.• Iowa has posted team ERA records in each of the past two seasons (2.95 in 2015, 3.56 in 2016). The Hawkeyes ranked in the top four in the conference in both seasons.
 
TEAM CAPTAINS
Iowa's team captains for the 2017 season are seniors Josh Martsching, Mason McCoy, and Corbin Woods, and junior C.J. Eldred.
 
BANKS MAGIC
Iowa has gone 33-10 at home since the start of the 2015 season.  The Hawkeyes went 17-3 in 2015 — the most home victories since 1996 — and followed it up with 16 home wins in 2016.  Iowa has six walk-off victories at Duane Banks Field since the start of 2015.
 
30 X 3
The Hawkeyes have won 30 or more games in each of the past three seasons under UI head coach Rick Heller.  Iowa won 41 games in 2015 en route to the program's first NCAA Regional appearance since 1990 before winning 30 games last season in a run to the Big Ten Tournament title game. 
 
ROSTER BREAKDOWN
.• Of Iowa's 36-man roster, 11 are freshmen, nine are sophomores, 10 are juniors, and six are seniors.
.• Iowa has 23 native Iowans on the 2017 roster — the most of any state. Seven Hawkeyes hail from Illinois, two from South Dakota, and one from Indiana, Missouri, Wisconsin, and Canada.
.• Iowa has one set of high school teammates (Zach Daniels and Sammy Lizarraga at Cedar Rapids Kennedy) and one set of junior college teammates (Tyler Cropley and Matt Hoeg at Iowa Western Community College).
.• Brothers Sam Norman (senior) and Ben Norman (freshman) will play alongside one another for the first time since teaming up at Des Moines' Roosevelt High School.
 
THANKSGIVING IN DOMINICAN
Iowa went 2-2 during its week-long trip to the Dominican Republic during Thanksgiving Break 2016.  The trip was a boost for the Hawkeyes' team chemistry and gave Iowa a jump-start on the 2017 season.  Iowa played games against the Dominican Army National Team, Texas Rangers Baseball Academy, Escogido — a Dominican professional team — and a local club team.
 
#HELLERBALL
• UI head coach Rick Heller is one of nine coaches all-time (one of four active) to lead three different NCAA Division I teams to regional play. 
• Heller is just nine wins away from 800 with a (791-632-4) record.
• Iowa ended the 2016 season with a 30-26 record, reaching the 30-win plateau for a third straight season — a first for the program since 1983-85.
• Heller is the winningest coach in his first three seasons in program history, winning 101 games.
• Iowa has advanced to the Big Ten Tournament in three straight years for the first time in program history.
• Heller has coached at least one first-team All-Big Ten selection each season, and has 11 Major League Baseball Draft picks in three seasons — the most in a three-year stretch since 1991-93.
• Iowa had a school-record six All-Big Ten selections in 2015.  The Hawkeyes have had 13 All-Big Ten honorees in three seasons under Heller. 
• Iowa has posted winning streaks of nine games (in 2015) and seven games (in 2014) — the longest streaks for the program since 2012.
 
FOLLOW THE HAWKEYES
Iowa baseball fans can follow the Hawkeyes on Facebook/iowabaseball, Twitter: @UIBaseball, and Instagram/UIBaseball in addition to coverage on
hawkeyesports.com.
 
SEASON TICKETS ON SALE
Season tickets for the 2017 Iowa home schedule are on sale now through the UI Athletics Ticket Office online at hawkeyesports.com or at 800-IA-HAWKS. Reserved and general admission adult tickets are $75, while general admission youth tickets are $40. Fans can also purchase a "30-block" season ticket, priced at $99, where tickets can be used at any game or combination of games throughout the season. Iowa will play 24 home games in 2017.