Hawkeye Fan Shop — A Black & Gold Store | 24 Hawkeyes to Watch 2016-17 | Hawk Talk Monthly — Feb. 2017 | Gallagher 24 Hawkeyes Video
Editor's note: 24 Hawkeyes to Watch is a feature released Monday, Aug. 1, highlighting one athlete from each of the 24 intercollegiate sports offered by the University of Iowa. More than 700 talented student-athletes are currently busy preparing for the 2016-17 athletics year at the UI. Hawkeyesports.com will introduce you to 24 Hawkeyes who, for one reason or another, are poised to play a prominent role in the intercollegiate athletics program at the UI in the coming year.
By JAMES ALLAN
hawkeyesports.com
IOWA CITY, Iowa — Nick Gallagher isn't caught up in roles, but his is about to increase for the University of Iowa baseball team.
 
How can the right-handed pitcher's role expand following a sophomore season where he led the team and tied for second in the Big Ten Conference with eight victories?  How can it increase after posting a team-leading 2.47 ERA?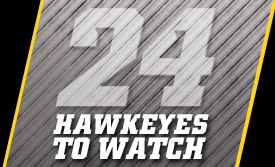 Gallagher, a junior from Iowa City, Iowa, did most of his damage in long relief in 2016. All but four of his 14 appearances came out of the bullpen, where he went 7-1 with a 1.07 ERA as a reliever.
 
In 2017, Gallagher is moving to Iowa's starting rotation as the Hawkeyes' ace.
 
"To go out and be a Friday night starter, it's more than just throwing the ball," said UI head coach Rick Heller. "It's a mentality, toughness, and frame of mind that I'm going to go out and give our team the best chance to win against the other team's best pitcher."
 
Gallagher has come a long way since his prep days at Iowa City (Iowa) West High School, where pitched sparingly as a junior. Over the course of a year, Gallagher grew and that translated to the mound.
 
He went 9-2 with a 1.44 ERA with 80 strikeouts in helping lead the Trojans to a state runner-up finish as a senior.
 
Gallagher went largely un-recruited prior to his senior season.  A few junior colleges, an NAIA school, and one Division I program showed interest, but he was content on being a Hawkeye in another sense. He was primed to attend the University of Iowa as part of the general student body.
 
He grew up a life-long Hawkeye fan, attending games in Kinnick Stadium and Carver-Hawkeye Arena for as long as he can remember. He was committed to being a team manager for the Iowa men's basketball team until late in the summer of 2014.
 
"I never expected to play baseball in college," said Gallagher. "I never thought I had the ability to play until my senior year. It so happened coach Heller came and watched me pitch and offered me a (walk-on) spot. 
 
"I decided to play baseball and I figured I would regret it if I didn't try. It has been a great decision, probably the best one I ever made."
 
Gallagher eased into collegiate baseball, serving in a midweek starting role as a freshman. He went 0-0 with a 2.18 ERA in nine appearances (five starts). It helped him to get his feet wet against college hitters.
 
"Looking back, no matter who you play, midweek games are as important as weekend games when it comes to your RPI and record," said Gallagher. "I had the mentality to do whatever I could to help the team. I barely threw on the weekend, and it was a good experience because last year I knew what to expect going into more weekend games."
 
Gallagher's sophomore season wasn't without struggles. He started the year in the weekend rotation at Dallas Baptist, but suffered a season-opening loss, lasting 1 1/3 innings in a 7-3 defeat.  The next weekend he moved into a relief role and thrived.
 
"He had adversity early and he didn't let that set him back," said Heller. "He fought through it and ended up having an amazing season.  He pitched some big games for us."
 
Gallagher points to the 8-3 victory over No. 18 Michigan on April 24 as a key point in his sophomore season.  Gallagher entered in relief in the second inning with the Hawkeyes trailing 2-1.  He went on to pitch a season-high seven innings, allowing one run on six hits and punching out seven.
 
"That was one of the best teams we faced, and it was one of my best games I pitched," said Gallagher. "Up and down the lineup, they had good hitters and I was able to execute my pitches and be successful. That was a big confidence-builder for me."
 
In his final four relief appearances of the season, Gallagher went 4-0 with a 0.38 ERA with victories over Michigan, Kansas State, Penn State, and Maryland. The win over Maryland came in the semifinals of the Big Ten Tournament, where he allowed one hit and struck out a career-high nine in six innings.
 
Gallagher kept hitters off balance with a pitch that wasn't in his arsenal prior to his sophomore season.  
 
"We started working on my slider in the fall," said Gallagher. "I asked (pitching) coach (Scott) Brickman if I could start throwing a slider to go along with my loopy curve ball because when you get later in games and teams see you more than once, you need another pitch to get them out.
 
"It has become my best pitch."
 
College baseball is taking notice. Gallagher's breaking ball was tabbed as the best in the Big Ten Conference by Baseball America leading into the 2017 season. 
 
"He has great stuff," said Heller. "His fastball is in the low 90s most of the time, he has a good slider and change-up, and can locate. He has abilities that I think can keep him playing in professional baseball for a long time."
 
Heller says Gallagher's stuff will play against the best in the Big Ten and he also believes Gallagher has the mental toughness to be the Friday starter.
 
"He's a better pitcher than he was last year because he worked his tail off, he has made big strides with his mental game, and his concentration and confidence are at an all-time high," said Heller."I am excited to see him put it into action in a live situation. He's ready for it."
 
"Every time out, I want to give our team a chance to win," said Gallagher. "If you're doing that, we're going to win a lot of Friday games because I know our offense is going to score runs. I want to keep our team in it every day and compete. That's all they can ask of me and I can ask of myself is to compete and do the best I can."
The Hawkeyes open the 2017 season Friday, facing South Florida at 5:30 p.m. (CT) in Tampa, Florida.