Hawkeye Fan Shop — A Black & Gold Store | 24 Hawkeyes to Watch 2016-17 | Hawk Talk Monthly — Feb. 2017 | 24 Hawkeyes to Watch: Sammy Brooks | VIDEO — Brands, Wrestlers Meet Media on Tuesday | Notebook PDF
Editor's Note: The following first appeared in the University of Iowa's Hawk Talk Daily, an e-newsletter that offers a daily look at the Iowa Hawkeyes, delivered free each morning to thousands of fans of the Hawkeyes worldwide. To receive daily news from the Iowa Hawkeyes, sign up HERE.
By DARREN MILLER
hawkeyesports.com
IOWA CITY, Iowa — Rare were the opportunities for Murrysville, Pennsylvania, native Michael Kemerer to watch his favorite wrestlers from the University of Iowa compete.
 
Then, during the 2013-14 season, the Hawkeyes made a dual stop in Edinboro, about 123 miles north of Kemerer's home town. They make a return trip today — with Kemerer in the Hawkeye lineup at 157 pounds — as part of the NWCA Division I National Duals Championship Series.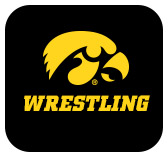 "It's not something that was expected because we didn't know who were wrestling," said Kemerer, who is 24-1 and ranked No. 2 in the nation. "It's good for my family and people who have supported me. For me, it is preparing and wrestling the same way, but it is cool for them."
 
No. 3 Iowa (12-2 overall, 8-1 Big Ten) has reeled off five consecutive dual victories since falling back-to-back against No. 1 Oklahoma State and No. 2 Penn State within a five-day stretch in January. No. 23 Edinboro (8-5, 6-0 Eastern Wrestling League) started the season 0-3 and is 1-5 against top 25 competition. The Hawkeyes lost to North Carolina State, 21-17, last season in the Duals Championship Series.
 
During his weekly news conference Tuesday, Iowa head coach Tom Brands said even if the Hawkeyes weren't in the Duals Championship Series, they would compete somewhere this weekend. When it was announced that Iowa was heading east, the Hawkeyes loaded a bus for a 10-hour trip to Edinboro.
 
"This weekend is ideal for competition," Brands said. "It's not like it's unusual. It's almost status quo."
 
That leaves two weeks before the whistle blows to begin the Big Ten Championships on March 4 in Bloomington, Indiana.
 
Even though a lengthy bus ride might not seem ideal, this trip offers plenty of benefits for the Hawkeyes. In most cases they will see opponents that feature a somewhat unconventional style. If the dual on Dec. 5, 2013 is any indication, it will be a festive environment: that's when the Hawkeyes won five of the last six matches to rally past the Fighting Scots, 22-19, in front of 3,152 in McComb Fieldhouse.
 
Another benefit? Not long ago, Iowa's roster included Mike Evans and Josh Dziewa. The current lineup includes Kemerer and freshman Kaleb Young. Two of the top recruits in the Class of 2017 are Spencer Lee and Max Murin. They are all Pennsylvania natives.
 
"That is something that isn't lost on us," Brands said. "A different style is definitely noteworthy. Environment is noteworthy. Of course being in Pennsylvania, where now we have two guys and we have more coming — we're excited to go out there."
 
The sport of wresting is king at Iowa and it is highlighted at Edinboro as well. Edinboro's director of athletics is Bruce Baumgartner, one of the greatest freestyle wrestlers in United States history. Cliff Moore, a former Hawkeye, is an assistant coach for the Fighting Scots. Moore won two Big Ten titles and an NCAA championship in 2004.
 
Tonight's dual begins at 6 p.m. (CT) and will be broadcast on AM 800 KXIC, audio streamed online at hawkeyesports.com, and streamed live on FloWrestling.com.