Hawkeye Fan Shop — A Black & Gold Store | 24 Hawkeyes to Watch 2016-17 | Hawk Talk Monthly — Feb. 2017 | 24 Hawkeyes to Watch: Sammy Brooks | B1G Pre-Seeds
IOWA CITY, Iowa — University of Iowa senior Thomas Gilman is listed as wrestling's top 125-pounder in the Big Ten Conference pre-seeds released Monday by the league office. The 2017 Big Ten tournament begins Saturday at Assembly Hall in Bloomington, Indiana.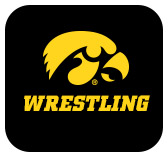 Gilman is 24-0 this season, including an 8-0 mark against the tournament field, and has scored bonus points in 21 of his 24 matches. It is the second time in his career he entered the tournament at the top seed. He was No. 1 in 2015 when he placed runner-up to Ohio State's Nathan Tomasello.
 
Tomasello is now the top seed at 133, where senior Cory Clark sits at No. 3 behind Nebraska's Eric Montoya. Clark is 12-2 this season and the defending conference champion at 133. He was seeded No. 2 last year when he defeated three consecutive top 10 opponents to win the Big Ten title.
 
Three Hawkeyes are seeded No. 2, including junior Brandon Sorensen at 149, redshirt freshman Michael Kemerer at 157, and defending champion Sammy Brooks at 184.
 
Sorensen is a two-time Big Ten runner-up. He is seeded behind defending Big Ten and NCAA champion Zain Retherford of Penn State. Sorensen lost to Retherford, 9-8, in the second tiebreak in the pair's only meeting this season.
 
Kemerer is seeded No. 2 behind Penn State's Jason Nolf. Kemerer is 25-1 overall and 9-1 against the tournament field. His only loss of the season was a 9-4 decision to Nolf on Jan. 20.
 
Brooks is the No. 2 seed for the first time in his career. He was the top seed and placed third as a sophomore in 2015, and won the championship as the No. 3 seed in 2016. He is 21-2 overall and 7-2 against the tournament field. His only losses this season have been to Penn State's Bo Nickal (No. 1 seed) and Indiana's Nathan Jackson (No. 3 seed). He avenged his only loss to Jackson in the consolation finals of the Midlands Championships.
 
Senior Alex Meyer is the No. 5 seed at 174. Meyer is 20-5 overall and 7-3 against the field. Ohio State's Bo Jordan, who defeated Meyer, 3-2, on Jan. 27, is the top seed at 174.
 
Three more Hawkeyes received seeds prior to their Big Ten Conference tournament debuts. Senior Topher Carton is the No. 6 seed at 141, redshirt freshman Joey Gunther is seeded fifth at 165, and redshirt freshman Cash Wilcke is the No. 7 seed at 197.  The Hawkeyes are unseeded at 285, where redshirt freshman Steven Holloway is making his tournament debut.
 
The top seeds at 141, 165, 197, and 285 are Anthony Ashnault (Rutgers), Isaiah Martinez (Illinois), Brett Pfarr (Minnesota), and Kyle Snyder (Ohio State).
 
For more information on the 2017 Big Ten Wrestling Championships visit hawkeyesports.com.