Hawkeye Fan Shop — A Black & Gold Store | 24 Hawkeyes to Watch 2016-17 | Hawk Talk Monthly — March 2017 | 24 Hawkeyes to Watch: Sammy Brooks | Session II Photo Gallery | Session I Photo Gallery | Session IV Photo Gallery | Session III Photo Gallery
Editor's Note: The following first appeared in the University of Iowa's Hawk Talk Daily, an e-newsletter that offers a daily look at the Iowa Hawkeyes, delivered free each morning to thousands of fans of the Hawkeyes worldwide. To receive daily news from the Iowa Hawkeyes, sign up HERE.
By DARREN MILLER
hawkeyesports.com
BLOOMINGTON, Ind. — Years from now, when Thomas Gilman is a father, he might shine his Big Ten Conference gold medal and tell a few stories.
 
But not until then. He isn't in the mood to celebrate now.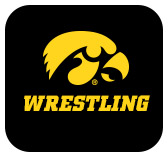 "I'm antsy to get back to Iowa City and get back to work," Gilman said Sunday, moments after winning his first Big Ten championship at 125 pounds. "Sorry for everyone who wants to say 'Hooray, we did it,' but this is one step along the way. There are a lot of trails to be blazed from here."
 
This is what Gilman blazed over the weekend: he became the 41st Hawkeye to win 100 career matches when he pinned Jose Rodriquez of Ohio State on Saturday. Win 101 (major decision over Conor Youtsey of Michigan) sent him to the conference finals for a second time; win 102 (his seventh straight over Tim Lambert of Nebraska) made him champion.
 
"It is probably something I will appreciate when I have kids and grandkids, looking back and say, 'Hey, I won the Big Tens as a senior and went on to have an undefeated season and win nationals, too," Gilman said.
 
Gilman joined senior 184-pounder Sammy Brooks as Hawkeyes who stood on top of the award stand Sunday at Assembly Hall. Brooks ran roughshod over the deepest and toughest bracket in the tournament, winning by fall and outscoring the other two opponents, 25-8.
 
Top-ranked Gilman continues to be the cream of the national lightweight crop. He is the only Big Ten 125-pounder with less than four losses, but three other competitors from the conference are ranked in the top seven nationally (Gilman is 11-0 all-time against those three).
 
And it didn't take long for the 125-pound bracket to make news at the Big Ten Championship. The No. 2 seed — Nick Suriano of Penn State — limped onto the mat and injury-defaulted to unseeded Ben Thornton of Purdue in the opening round. Gilman handed Suriano his first collegiate loss, 3-2, on Jan. 20.
 
Instead of a rematch against Suriano in the finals, Gilman went round VII with Lambert, who lost 3-2 to Suriano nearly two months ago.
 
"I'll wrestle whoever they put across there, it could be King Kong, I don't care," Gilman said. "I want to wrestle the best guy; (Sunday) the best (opponent) on the mat was Lambert. (Sunday) the best guy was on the mat, so you can't take anything from me for winning the tournament because (Suriano) wasn't here, and you can't take anything away from (Lambert)."
 
This is the first time Gilman has held Lambert scoreless. When the two met Feb. 12 in the dual in Iowa City, Lambert rode Gilman the entire third period of a 6-3 decision. Riding was again the theme for the Cornhusker, but Gilman escaped twice (Lambert chose top in the third period trailing, 3-0).
 
"Gilman was workmanlike," Iowa head coach Tom Brands said. "He is undefeated (27-0), what more can you say? He was getting slowed down in that bottom position a different way, but he kept working, he kept the pace higher."
 
Once Gilman hopped down from the award stand, he immediately focused on a return to the Dan Gable Wrestling Complex, and an upcoming return to the NCAA Championships from March 16-18 in St. Louis.
 
"A Big Ten title is a big deal, but it is one step on the way," Gilman said.
 
The Hawkeyes automatically qualified seven wrestlers for the NCAA Championship with the possibility of at-large bids for Joey Gunther (165) and Cash Wilcke (197). At-large bids are announced Tuesday.
 
"We have St. Louis ahead of us and we're excited about that," Brands said. "Now we're to the part of the season we've talk about all year. We have work to do."
 
After all, winning gold medals in St. Louis is cause for immediate celebration.