Hawkeye Fan Shop — A Black & Gold Store | 24 Hawkeyes to Watch 2016-17 | Hawk Talk Monthly — March 2017 | Hawkeyes in the NBA | Game Notes (PDF) | Iowa Tournament History & Clippings | Fran McCaffery Transcript (PDF)
By DARREN MILLER
hawkeyesports.com
IOWA CITY, Iowa — Rutgers is on the 14th rung of the Big Ten men's basketball standings, but the Scarlet Knights own a victory over ninth-seeded Illinois this season. The Illini have two wins over seventh-seeded Iowa. The Hawkeyes have defeated Purdue, Wisconsin, and Maryland — the top three teams.
 
It's easy to rely on the transitive property to predict unpredictable outcomes in the upcoming Big Ten Tournament that will be held March 8-12 in the Verizon Center in Washington, D.C. The balance and depth of the league is what promises to make for an exciting five days in our nation's capital.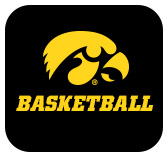 "This is as balanced of a league as I've ever been in," Iowa head coach Fran McCaffery said Tuesday at a news conference inside Carver-Hawkeye Arena. "Every league I've ever been in, the teams at the bottom just aren't very good, and that's not the case this year in our league. Some teams don't have the same record as some of the other teams, but they've beaten those teams and they've played well. That makes for a great conference and a great conference tournament. I don't know that I've ever gone into (a tournament) where you look and say pretty much anybody can win it."
 
Iowa (18-13 overall, 10-8 Big Ten) is the only Big Ten team entering postseason on a four-game winning streak. Eleven of the 14 league teams have winning records.
 
"Anybody can beat anybody any night," said Iowa senior Peter Jok, a first-team All-Big Ten selection. "We have a lot of great teams in the tournament, so you have to come ready to play. It's do or die now, the survivor advances. If you don't win, you go home, so everybody is hungry."
 
The Hawkeyes have thrived in a do-or-die setting since losing to Illinois at home Feb. 18. Iowa left Mediacom Court that day with a record of 14-13, 6-8 in the league, but has since defeated Indiana, No. 24 Maryland, No. 21 Wisconsin, and Penn State in succession during a 12-day span. The wins over Maryland and Wisconsin were on the road.
 
"We won games and stuff started happening, it's as simple as that," said Iowa's Tyler Cook, a member of the Big Ten All-Freshman team. "Now we have to make sure we do what we have to do to beat a good Indiana team."
Anybody can beat anybody any night. We have a lot of great teams in the tournament, so you have to come ready to play. It's do or die now, the survivor advances. If you don't win, you go home, so everybody is hungry. — Peter Jok
Jok (18.8 points per game), Cook (13.8), freshman Jordan Bohannon (13.8), and sophomore Nicholas Baer (13.8) have all averaged double-figures in points during the recent winning streak. Freshman Cordell Pemsl is averaging 17.8 minutes and 9.3 points.
 
McCaffery said that when it is said and done, you need a confident team at the end of the season. During March Madness, winning and confidence are synonymous.
 
"Obviously winning will bring you confidence and we're on a four-game winning streak," said Baer, the Big Ten's Sixth Man of the Year. "We also have guys playing at a very high level. Jordan has been phenomenal lately, knocking down shots. Tyler has been effective in the low post, Cordell coming off the bench has been impactful for us and Pete being Pete.
 
"When you see young guys having success, Pete continues to do what he has been doing, and you are winning, it makes you feel confident going into the Big Ten Tournament."
 
Bohannon was named Big Ten Freshman of the Week for his efforts in victories against No. 21 Wisconsin and Penn State. He averaged 11 points, five assists, and 2.5 made 3-point field goals in the games. Jok is the Big Ten's leading scorer at 20.2 points per game. He is also tops in free throw percentage (92.0).
 
Still, the Hawkeyes know better than to overlook their first opponent, Indiana (17-14, 7-11). The Hoosiers closed the season by winning two of three games and led Iowa by 13 points early in their game Feb. 21 inside Carver-Hawkeye Arena.
 
"They're still battling and they have a lot to play for," McCaffery said of the Hoosiers. "They know that, and we have to know, understand, and respect that. They know the same thing about us. It's a team that has our full attention in terms of what they're capable of doing."
 
With three freshmen and a sophomore in the starting lineup, Iowa's ceiling continues to rise. That is one thing about this unpredictable season that was easy for Baer to predict.
 
"I had a feeling we would be playing our best basketball in March with the younger group and guys coming along later in the season as they have," he said. "We're putting everything together offensively and defensively."
 
The Indiana-Iowa game is scheduled for Thursday at 5:30 p.m. (CT).