Hawkeye Fan Shop — A Black & Gold Store | 24 Hawkeyes to Watch 2016-17 | Hawk Talk Monthly — March 2017
 
 
Editor's Note: The following first appeared in the University of Iowa's Hawk Talk Daily, an e-newsletter that offers a daily look at the Iowa Hawkeyes, delivered free each morning to thousands of fans of the Hawkeyes worldwide. To receive daily news from the Iowa Hawkeyes, sign up HERE.
By JAMES ALLAN
hawkeyesports.com
IOWA CITY, Iowa — Heading into his sophomore season with the University of Iowa baseball team, Robert Neustrom's focus was consistency.
 
Through 11 games, Neustrom has been as consistent as they come.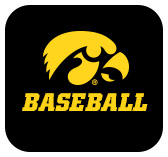 The Sioux City, Iowa, native has hit safely in all 11 games and he is hitting a team-leading .404 with 19 hits, 11 RBIs, and eight runs scored.  His 19 hits are tops in the Big Ten and his average is third-best in the league.
 
"I have been staying focused on being consistent and not changing what is working," said Neustrom. "I changed my stance a little bit (from last season), and I feel a lot more relaxed at the plate. I am trying to get my pitch, and when I do, I try to get my best swing off.
 
"When you do that, good things happen."
 
Neustrom bought in 100 percent to former hitting coach Pete Lauritson's approach, one that focuses on launch angles, exit velocity and consistently getting the best swings off. Lauritson worked with the Hawkeyes throughout the fall before taking a position with the Cleveland Indians. Former Hawkeye Sean Moore has since stepped into the role as Iowa's hitting coach.
 
"Pete came in and did a good job for the short time he was here," said Neustrom. "Sean stepped in and has done a good job with what he is doing with hitting. He's letting us play. If he sees something that needs corrected, he'll let us know, but he doesn't try to change our plan."
 
Neustrom's plan has worked. 
 
During his career-best 11-game hitting streak, the outfielder has a team-leading seven multi-hit (six two-hit and one three-hit) games.  He collected two hits in four of the team's first five games; he has three multi-hit games, including a three-hit, three-RBI performance against Northern Illinois on March 7, in the last four contests.
 
Neustrom was solid in his first season as a Hawkeye, hitting .307 with 24 runs and 21 RBIs.  He had 12 multi-hit games in 52 contests, but he knew some adjustments could make him become a better player.
 
"Looking back on my freshman year, I realized there were things I needed to change and some easy fixes," said Neustrom. "This summer playing in the Northwoods League helped a lot with that, I played in a lot of games.  I focused on getting stronger and trying to become a well-rounded player."
 
With Neustrom's bat in the middle of the lineup, Iowa has gotten off to a 7-4 start.  The Hawkeyes have overcome deficits in five of their seven victories.
 
"This team doesn't give up," said Neustrom. "We're starting off strong in games and scoring runs in early innings and getting big hits early in the game. Even when we have gotten down, we're fighting back. That's good to see this early in the season."
 
Neustrom says the key to sustaining the start goes back to consistency.
 
"Everybody has to stay on the same page," he said.  "We need to keep the chemistry in the locker room great like it is now, and keep working hard."
 
The Hawkeyes open play at the Snowbird Baseball Classic today in Port Charlotte, Florida.  Iowa plays four games over the weekend, beginning with a 12:30 p.m. (CT) matchup against Villanova.