Hawkeye Fan Shop — A Black & Gold Store | 24 Hawkeyes to Watch 2016-17 | Hawk Talk Monthly — March 2017 | 24 Hawkeyes to Watch: Sammy Brooks | Wrestling Season Ticket Wait List | 2017 NCAA Wrestling Central | 2017 Brackets | VIDEO — Brandon Sorensen
 
Editor's Note: The following first appeared in the University of Iowa's Hawk Talk Daily, an e-newsletter that offers a daily look at the Iowa Hawkeyes, delivered free each morning to thousands of fans of the Hawkeyes worldwide. To receive daily news from the Iowa Hawkeyes, sign up HERE.
 
By DARREN MILLER
hawkeyesports.com
 
ST. LOUIS — When it comes to living up to a wrestling seed at the NCAA Championships, University of Iowa junior 149 pounder Brandon Sorensen has been spot on. He wants to change that this weekend.
 
It has been an unusual season of sorts for Sorensen, a two-time All-American with 95 career victories. One, he lost back-to-back matches for the first time as a collegian. Two, he did not advance to the finals of the Big Ten Championships for the first time ever. Three, he is lower than a No. 4 seed at the national championships for the first time ever.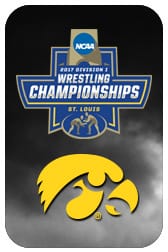 "We need to turn it on," Iowa head coach Tom Brands said. "This has been his third year and he hasn't had a year like this before. We're going into this tournament as the fifth seed and we have to giddy up."
 
As a redshirt freshman in 2015, Sorensen entered the NCAA Championships in St. Louis as the fourth seed and he finished fourth. Last season he entered the NCAA Championships in New York City as the second seed and he finished second. He is 26-4 this season and seeded fifth behind defending national champion Zain Retherford of Penn State, Anthony Collica of Oklahoma State, Lavion Mayes of Missouri, and Micah Jordan of Ohio State.
 
To reach the finals for a second consecutive season, Sorensen will have to presumably defeat Jordan in the quarterfinals and Retherford in the semifinals. He is 1-1 against Jordan and 0-3 against Retherford. He dropped a 9-8 decision in overtime to Retherford in the dual Jan. 20 inside Carver-Hawkeye Arena.
 
"It doesn't matter what seed you are," Sorensen said. "If you want to win, you have to beat them all. That's the plan right now. You have to put it all out there."
 
First things first. Sorensen opens the 2017 NCAA Championships against Southern Conference champion Matt Zovistoski of Appalachian State. From there, the front side of the bracket should feature nationally ranked opponents for the duration of the tournament.
 
But Sorensen thrives in the postseason. Ten of his 95 victories have come at the NCAA Championships: He was 6-2 in 2015 and 4-1 a year ago.
 
"It's fun. You get out there and wrestle on the big stage, it's that time of year," Sorensen said. "It's another experience — the crowd, the atmosphere, it's a good time."
 
Sorensen is coming on strong, despite a third-place finish at the Big Ten Championships on March 5. After the 2-1 setback to Jordan in the semifinals, he destroyed 15th ranked Kenny Theobald of Rutgers by 10-2 major decision and pinned Zac Hall of Michigan in 2:53.
 
"You never like to lose, but it makes you realize things you have to do," Sorensen said. "It's a swift kick in the butt. It reminds you that you have to get going and that's what we have to find from the get-go at the national tournament."
 
Sorensen is 4-4 against opponents ranked in the top 15 this season. Of those losses, three are by one point and three have been in overtime (the fourth loss was by two points).
 
"I started off too slow," Sorensen said. "I have to start with my feet moving and keep them moving the whole match. I need to wrestle seven minutes and not give up little stupid mistakes. I have to capitalize in areas I need to score and a lot of it comes from picking up the pace and moving my feet."
 
The NCAA Championships are March 16-18 in the Scottrade Center in St. Louis. Session I begins at 11 a.m. (CT) on Thursday.