Hawkeye Fan Shop — A Black & Gold Store | 24 Hawkeyes to Watch 2016-17 | Hawk Talk Monthly — March 2017 | 24 Hawkeyes to Watch: Sammy Brooks | Wrestling Season Ticket Wait List | 2017 NCAA Wrestling Central | 2017 Brackets | Photo Gallery | VIDEO — News Conference in St. Louis
 
By DARREN MILLER
hawkeyesports.com
 
ST. LOUIS — Thomas Gilman was the lone University of Iowa senior invited onto the dais Wednesday at a pre-NCAA Wrestling Championships news conference in the Scottrade Center. But head coach Tom Brands was asked for comment on the entire five-member Hawkeye crew of seniors competing in its final collegiate tournament March 16-18.
 
The Hawkeye seniors are Gilman, top-seeded at 125 pounds, Cory Clark (fourth at 133), Topher Carton (unseeded at 141), Alex Meyer (11th at 174), and Sammy Brooks (third at 184).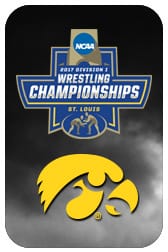 "It's a great group of guys, great leadership," Brands said. "They are fun to be around and fun to coach. They are one of a kind and when you say that and it comes out of my mouth, that is real. You don't just say they come from a great family or they have great morals and ethics, but they do and it's real. The thing about this group is it is here to compete, so let your best wrestling shine right now."
 
Gilman was one of five student-athletes and Brands was one of five head coaches interviewed on the eve of Thursday's first session that begins at 11 a.m. (CT). Joining Brands were Ohio State's Tom Ryan, Penn State's Cael Sanderson, Missouri's Brian Smith, and Oklahoma State's John Smith. Joining Gilman were Missouri's J'Den Cox (197 pounds), Cornell's Gabe Dean (184), Penn State's Zain Retherford (149), and Ohio State's Kyle Snyder (285).
 
"I don't have much to say, just that I'm ready to go, so let's get after it," said Gilman, who owns a 27-0 record. His last loss was in the finals of the 2016 NCAA Championships in New York City. "It's my senior year, my last hoorah. Everybody wants to talk it up, but it's no different. It's a competition, another match. We still have to be ready, fired up, and motivated. I have to stay disciplined and focused and take it one match at a time. The season's not over yet. My career's not over yet."
 
The biggest news making the rounds Wednesday is that Penn State freshman 125-pounder Nick Suriano, who lost to Gilman earlier in the season and defaulted from the Big Ten Championships, will not compete this weekend because of an ankle injury he suffered in the NWCA National Duals at Oklahoma State. Suriano was the No. 3 seed.
 
"I'm sorry to hear that he's not going to be competing and I hope he gets well soon," Gilman said. "The way the bracket laid out, we would have met in the finals and he would have had to make it to the finals. No disrespect to him or anybody else, but I wrestle whoever they put out there and whoever makes it to the finals, whether that would be him or (Virginia Tech's Joey) Dance, or anybody else.
 
"It's not a given I would make it to the finals, either. You have to take it one match at a time and whoever steps out there, I'm ready to compete against."
 
Another question asked of both competitors and coaches was if they thought the college wrestling season is too lengthy.
 
"The wrestling community shouldn't be talking like that," Gilman said. "The season's long and hard. The sport is hard. The matches aren't what is mentally and physically draining, it's the training. But that's what we embrace and that's why we wrestle."
 
The Hawkeyes placed fifth at the NCAA Championships last season with 81 points. Gilman (second), Clark (second), junior Brandon Sorensen (second), Meyer (eighth), and Brooks (eighth) are returning All-Americans.