Hawkeye Fan Shop — A Black & Gold Store | 24 Hawkeyes to Watch 2016-17 | Hawk Talk Monthly — Feb. 2017 | Game Notes — at Kansas State
| | |
| --- | --- |
| Dates: | March 17-19, 2017 |
| Location: | Manhattan, Kan. (Tointon Family Stadium) |
| Game Notes: | IOWA | Kansas State |
| Statistics: | IOWA | Kansas State |
| | |
| Radio/Streaming: | Hawkeye All-Access |
| Live Stats: | Game 1 | Game 2 | Game 3  |
| Video Streaming: | K-STATEHD.TV ($) |
| | |
| Game 1 | March 17 | 6:35 p.m. (CT)  | |
| Pitching Matchup:  | Iowa: Sr., LHP Ryan Erickson (0-0, 5.14 ERA) |
| | KSU: Jr., RHP Justin Heskett (1-1, 3.48 ERA) |
| Game 2 | March 18 | 5 p.m. (CT)  | |
| Pitching Matchup: | Iowa: So., RHP Cole McDonald (2-2, 5.71 ERA) |
| | KSU: Sr., LHP Parker Rigler (2-1, 1.80 ERA) |
| Game 3 | March 19 | 1 p.m. (CT)  | |
| Pitching Matchup: | Iowa: Sr., RHP Drake Robison (1-1, 6.62 ERA) |
| | KSU: So., RHP Brogan Heinen (1-1, 3.54 ERA) |
THIS WEEK
The University of Iowa baseball team travels to the Little Apple for a three-game weekend series against Kansas State from March 17-19 at Tointon Family Stadium.  Friday's opener is set for 6:35 p.m. (CT), Saturday begins at 5:05 p.m., and the finale at 1:05 p.m.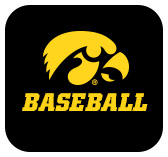 GAME COVERAGE
• Iowa's live audio stream of the three-game series will be available on Hawkeye All-Access with Zach Mackey on the call.  
• All games will be carried on select stations around the state via the Hawkeye Radio Network.  All three games this weekend will be on WDBQ in Dubuque; Sunday's games will also be on KKFD in Fairfield.
• The duration of the three-game series will be streamed live online via K-STATEHD.TV ($) on kstatesports.com.  
• Live statistics will be available at www.hawkeyesports.com and fans can follow the action via Twitter/UIBaseball.
IOWA TIDBITS
• The Hawkeyes had a season-high 18 hits in game two against Lehigh on March 12 — an 8-3 win at the Snowbird Classic.
• Iowa hit a season-best .321 at the Snowbird Classic, scoring 25 runs and collecting 44 hits in four games.  
• The Hawkeyes are third in the Big Ten and 18th nationally in team fielding percentage at .980.  
• Iowa is hitting .311 as a team and averaging 7.1 runs per game over its last 10 games.  Freshman Ben Norman is leading the team with a .424 batting average during the stretch, while Robert Neustrom has a .409 average with 15 RBIs.
• Six Iowa regulars are hitting better than .300 this season.  Four Hawkeyes — Robert Neustrom (second, .422), Chris Whelan (ninth, .373), Ben Norman (13th, .357), and Mason McCoy (14th, .356) — rank in the top-14 in the Big Ten in batting average.
• Junior Jake Adams is leading the Big Ten with five home runs and 20 RBIs. His fifth long ball came March 12 in game one against Lehigh when he hit a second-inning grand slam.  Adams finished 3-for-5 with six RBIs in the game.
• Junior Nick Gallagher leads the Big Ten with 27.0 innings pitched, and he is third in strikeouts (26) and 12th in ERA (3.67).
• The Hawkeyes are picked to finish in a tie for sixth place in the Big Ten in a vote of the league's 11 head coaches. Iowa is also tabbed to finish eighth in the conference by Perfect Game and ninth by D1Baseball.com.
K-STATE NOTABLES
• The Wildcats enter the weekend with a 12-5 overall record, having lost three of their last four games.  K-State lost 2-of-3 games against UC Riverside last weekend in Manhattan and fell 5-2 to Omaha on Wednesday.
• The Wildcats went on the road to defeat No. 4 South Carolina, 6-5, on Feb. 23.
• Kansas State is hitting .285 as a team and averaging 7.1 runs.  The Wildcats have two regulars hitting over .300 in Cameron Thompson (.364, 28 H, 17 R, 13 RBIs) and Jake Scudder (.333, 12 R, 5 HR, 21 RBIs).  Four Wildcats have 10 or more RBIs.
• On the mound, Kansas State has a 3.79 ERA with 134 strikeouts over 152 innings.  The Wildcats will start junior RHP Justin Heskett (1-1, 3.48 ERA) on Friday, senior LHP Parker Rigler (2-1, 1.80 ERA) on Saturday, and sophomore RHP Brogan Heinen (1-1, 3.54 ERA) on Sunday.
• Rigler tossed a no-hitter in a March 5, 14-0, victory over Eastern Illinois.  He struck out six, while issuing two walks.
SERIES RECORD
• The Wildcats lead the all-time series over Iowa, 15-8.  Kansas State has won eight of the last 10 meetings.
• The two teams have played three weekend series since the start of the 2013 season.  The Wildcats won 2-of-3 games in 2013 in Iowa City, swept the series in 2014 in Manhattan, and won 2-of-3 games last season in Iowa City.  
• K-State also won the 2015 season opener at the Snowbird Classic in Florida.
• All three games of last season's series at Banks Field were decided by two runs or less.  K-State won the series opener, 3-2, and the finale, 4-2.  The Hawkeyes won game two, 2-1, behind seven shutout innings from Nick Gallagher.  He scattered two hits and fanned five.
HELLER WINS NO. 800
UI head coach Rick Heller won the 800th game of his collegiate coaching career when the Hawkeyes swept a March 12 doubleheader over Lehigh at the Snowbird Baseball Classic. 
#SWINGFASTER
The Hawkeyes are tied for second in the Big Ten with 15 home runs, two behind league-leading Illinois.  Eight different players have hit at least one home run.
• Junior Jake Adams has a team and Big Ten-leading five home runs.  Adams has matched Joel Booker's home run total from the 2016 season in 15 games.
ERICKSON TO START FRIDAY
Senior Ryan Erickson will make his first start of the season — the fourth of his career — on Friday at Kansas State. Junior Nick Gallagher will miss the start with arm discomfort.
• Erickson started three games as a junior (at Southern Illinois, vs. Michigan, and vs. Kansas State). He is 0-0 with a 5.14 ERA in four appearances this season.
CAREER DAYS
The Hawkeyes got big-time performances from the middle of their lineup in a doubleheader sweep over Lehigh on March 12.
• Junior Jake Adams went 3-for-5 with a career-high six RBIs in a 15-7 victory in game one against the Mountain Hawks. He had a double and a grand slam in the contest.  The six RBIs are tied for the most in a Big Ten game this season.
• Sophomore Robert Neustrom had a career-best four hits and five RBIs in game two.  He went 4-for-5 in game two.
HAWKEYE HONORS
• Junior Jake Adams was named the Big Ten Player of the Week on March 6 after hitting .417 with two home runs and six RBIs in leading the Hawkeyes to a 2-1 record at the DQ Classic. It was the first honor of his career.  
• Senior Mason McCoy earned Big Ten Player of the Week honors on Feb. 27 after hitting .438 with seven hits, six runs, and six RBIs in leading Iowa to a 3-1 week two record.  The honor is the second of McCoy's career.
• Adams and Matt Hoeg, sophomore Robert Neustrom and freshman Ben Norman were named to the DQ Classic All-Tournament team on March 5.
• Norman and junior Chris Whelan shared the DQ Classic batting title.  Both players hit .500 in three games.
A SPARK PLUG
Sophomore Chris Whelan moved to the leadoff position Feb. 26 against Morehead State and all he's done since is hit.  The Naperville, Illinois, native is hitting .471 (16-of-34) with eight runs and seven RBIs since taking over the top spot in the lineup.  He has scored at least one run in six of the nine games seven total and has seven RBIs during the stretch.
• Whelan has five multi-hit games since making the move, including three three-hit games. The outfielder hit his first career home run in a 7-6 win over Hawai'i. 
NEUSTROM SIZZLES
Sophomore Robert Neustrom has hit safely in 14-of-15 games this season.  The outfielder opened the year with a career-best 11-game hitting streak. 
• Neustrom has a team-best nine multi-hit games  and is hitting a team-leading .422 average with 11 runs and 17 RBIs.  Neustrom has 12 RBIs in his last six games.
• He tallied his first career four-hit game against Lehigh, finishing 4-for-5 with a career-best five RBIs.  
• The Sioux City, Iowa native, has a career-best two home runs, including a three-run shot in Iowa's road loss at Minnesota. 
• Neustrom had 12 multi-hit games the entire 2016 season — a season where he hit .307 as a true freshman.
MCCOY: THE SHORTSTOP
Senior Mason McCoy is back at his natural position at shortstop; he's comfortable and producing.  The Illinois native has eight multi-hit games, hit safely in 12-of-15 games, and has scored at least one run in 11-of-15 games.  
• McCoy has three two-hit games over the past five contests. He is hitting .356 with a Big Ten-leading 18 runs and 11 RBIs.  His eight doubles are also a Big Ten best and rank 24th nationally.
• McCoy was an Northwest League All-Star selection in both 2015 and 2016, playing for the La Crosse Loggers.
• Iowa has had an all-conference selection at shortstop in each of Rick Heller's first three seasons.  (Jake Yacinich, first-team, 2014; Nick Roscetti, third-team, 2015, first-team, 2016).
YOUNG PUP
Freshman Ben Norman has stepped up and taken hold of the center field position, starting the last eight games.  During the stretch, Norman is second on the team with a .448 average, collecting 13 hits and scoring seven runs.  The Des Moines, Iowa, native has hit safely in six games during the stretch, posting four multi-hit games (three three-hit contests).
• Norman is hitting .357 with nine runs and six RBIs this season.
• He is also 6-for-6 in stolen base attempts this season. 
ELDRED TO MISS REMAINDER OF SEASON
Junior C.J. Eldred will miss the remainder of the 2017 season after undergoing a partial repair surgery of the UCL on March 15 in St. Louis.  Eldred was 0-0 with a 1.50 ERA this season.
OFFENSIVE TIDBITS
• Junior Jake Adams has hit safely in 11-of-15 games this season, including posting seven multi-hit games.  The South Dakota native has hits in 10 of the last 12 games.  He is hitting a season-high .328 with a team and Big Ten-best 20 RBIs.
• Junior Matt Hoeg has hit safely in 10-of-14 games this season. The infielder has started 12 games, including nine straight at third base. He has three multi-hit and two three-run games during the stretch.
• Sophomore Mitchell Boe has a career-best five-game hitting streak. He is hitting .353 during the stretch with six hits, five runs, and four RBIs.  He has two two-RBI games during the streak, which are career-highs. 
• Freshman Justin Jenkins had the first two hits of his career at the Snowbird Classic. He had a pinch-hit single against Villanova, scored two runs in game one against Lehigh, and had an RBI double in game two against the Mountain Hawks.
BALLS & STRIKES
• Iowa's pitching staff ranks second in the Big Ten in strikeouts (134) and fourth in innings (134.0).
• Sophomore Cole McDonald earned his second win — his first as a weekend starter — in Iowa's victory over Oral Roberts on March 4.  McDonald went five innings, allowing three runs on five hits with four strikeouts.  He went a career-long 6 1/3 innings against Bucknell on March 11, but was tagged with the loss.  He is 2-2 with a 5.71 ERA this season with 17 strikeouts to seven walks.
• Senior Drake Robison earned his first career win as a Hawkeye on March 12 against Lehigh.  He struck out a career-high nine batters — a team season-high — over six innings.  
• Sophomore Zach Daniels hasn't allowed a run in four of his six appearances.  He is 2-1 with a 5.73 ERA after earning his second win in game two against Lehigh on March 12.  He struck out a career-high four in the outing.
• Sophomore Sammy Lizarraga went a career-high three innings against Lehigh on March 12.  He allowed two runs on five hits and fanned a career-high five.
• Senior Josh Martsching is 0-0 with a 3.38 ERA in five appearances. The right-hander has allowed two earned run over 5 1/3 innings. He recorded his first save in Iowa's 12-8 win over Northern Illinois on March 7.
• Junior Elijah Wood made his Iowa debut against Northern Illinois, allowing one run on two hits and fanning three. He is 0-0 with a 2.25 ERA in two appearances.
JUNIOR NICK GALLAGHER…
• is 10-4 with a 2.77 ERA in 27 career appearances, including 13 starts.  He has 102 strikeouts against 33 walks.
• has three quality starts in 2017 in games against South Florida, Alabama State, and Hawai'i.  He has logged at least seven innings in three of four starts.
• went a career-high eight innings in Iowa's 7-6 victory over Hawai'i at the DQ Classic. He had a season-high eight strikeouts (without walking a batter) in the game.
• tied for second in the Big Ten with eight victories as a sophomore, which were the sixth-most in a single-season in program history.
• was named to the 2016 Big Ten All-Tournament team after allowing one hit over six innings and fanning a career-high nine in a victory over Maryland.
TEAM CAPTAINS
Iowa's team captains for the 2017 season are seniors Josh Martsching, Mason McCoy, and Corbin Woods, and junior C.J. Eldred.
FOLLOW THE HAWKEYES
Iowa baseball fans can follow the Hawkeyes on Facebook/iowabaseball, Twitter: @UIBaseball, and Instagram/UIBaseball in addition to coverage on 
hawkeyesports.com.