Hawkeye Fan Shop — A Black & Gold Store | 24 Hawkeyes to Watch 2016-17 | Hawk Talk Monthly — March 2017 | 24 Hawkeyes to Watch: Sammy Brooks
Editor's Note: The following first appeared in the University of Iowa's Hawk Talk Daily, an e-newsletter that offers a daily look at the Iowa Hawkeyes, delivered free each morning to thousands of fans of the Hawkeyes worldwide. To receive daily news from the Iowa Hawkeyes, sign up HERE.
By CHRIS BREWER
hawkeyesports.com
 
IOWA CITY, Iowa — Lloyd Christmas hates them. They're hard for Boys II Men to say. But it's early spring, which means, whether we like them or not, it's time to break out the goodbyes.
 
The University of Iowa wrestling program closes the book on its 2016-17 season with its annual awards banquet Friday night, and as it always does, part of the program includes comments from graduating seniors.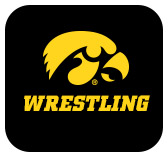 Some words are brief. Some messages are strong. Some stories are light. Anything and everything goes, including the student-athletes themselves.
 
Five of Iowa's nine 2017 NCAA qualifiers are heading out the door. Seniors Sammy Brooks, Topher Carton, Cory Clark, Thomas Gilman, and Alex Meyer are graduating with one NCAA individual championship, four individual Big Ten titles, and 10 All-America honors. And despite not delivering a national team title, they leave the Dan Gable Wrestling Complex a better place for those that follow. 
 
"The senior class has been vital to our culture change," said UI head coach Tom Brands. "When we talk about culture change I'm talking about being good leaders for our young guys, our freshmen, incoming freshmen, and hosting recruits. They do it all and every one of those seniors has been on board every step of the way."
 
A product of that leadership is 157-pound All-American Michael Kemerer, one of three redshirt freshmen to qualify for nationals. 
 
"I'll miss those guys a lot," said Kemerer. "I've learned a lot from those guys. We will be a young team next year, so I'll have to take what they taught me and teach it to our younger guys. We have to get back to winning and it starts with our young guys right away."
 
Sandwiched between the five seniors and three redshirt freshman was junior Brandon Sorensen, who accompanied Clark and Gilman to the NCAA finals in 2016 and shared All-America honors with them in each of the last three years. 
 
"It's going to suck with those guys leaving, but it happens every year," Sorensen said. "We have a good group leave and hopefully some freshmen will come in and replace them."
 
Sorensen will be the de facto captain of the team. He has graced the cover of two media guides and will likely be on a third. Like the class before him, he has led by example since his first year on campus, and he expects the same from those behind him.  
 
"Leadership doesn't have to be senior leadership," Sorensen said. "It can be freshman leadership. It can be any age, it doesn't matter. There is leadership all over. It's doing the right things. Moving the team in the right direction. Kemerer has done that. Our freshmen can be leaders." 
 
The Hawkeyes move forward in 2017-18 with Kemerer, Sorensen, sophomore heavyweight Sam Stoll, and NCAA qualifiers Cash Wilcke and Joey Gunther. Wilcke was a late addition to the tournament — sliding into the 33rd and final 197-pound spot in the bracket. He battled to the round of 12 and finished two points shy of the All-America stand. Gunther split four matches at the NCAA Championships and provided the Hawkeyes team points at the 165-pound weight class for the first time in three years.  
 
Throw in a freshman class that includes Iowa, Ohio, and Pennsylvania products Carter Happel, Alex Marinelli, and Kaleb Young, and the Hawkeyes will again have an entertaining lineup with championship aspirations. It's an endearing product and a reflection of the progress made by the seniors before them.
 
"The seniors were not great right away, but they made mistakes and stayed on board," Brands said. "When you stay on board and take accountability, you can do a lot of things (to positively impact) the next year, and the year after that, and the year after that, and now all the way into our recruiting."
 
On Friday, the seniors get a chance to say goodbye. An appropriate response would be, thank you.