Hawkeye Fan Shop — A Black & Gold Store | 24 Hawkeyes to Watch 2016-17 | Hawk Talk Monthly — March 2017 | 24 Hawkeyes to Watch: Sammy Brooks | 2017 Final Notes
ON THE MAT
The Hawkeyes finished the 2016-17 season with one NCAA individual champion, two Big Ten Tournament champions, five All-Americans, and nine academic All-Big Ten honors. The Hawkeyes owned an overall record of 13-2 and a Big Ten record of 8-1.
 
NCAA CHAMPIONSHIPS
Senior Cory Clark won the 133-pound title at the 2017 NCAA Championships.
     Clark defeated South Dakota State's Seth Gross, 4-3, in the finals. He is the 54th Hawkeye in program history to win an NCAA wrestling title. Those 54 winners have totaled 82 individual national championships. He is also one of just 19 four-time All-Americans in program history.
     The Hawkeyes placed fourth at the NCAA tournament, sending four wrestlers to the semifinals and crowning five All-Americans.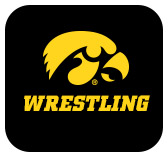 ALL-AMERICAN STREAK
Iowa crowned five All-Americans in 2017 — Thomas Gilman (125), Cory Clark (133), Brandon Sorensen (149), Michael Kemerer (157), and Sammy Brooks (184).
     Clark became the 19th four-time All-American in school history. Gilman and Sorensen both won their third All-America honor, Brooks won his second, and Kemerer won his first.
     The Hawkeyes have crowned at least one All-American in 46 consecutive seasons, a stretch dating back to 1972. Iowa has totaled 278 All-America honors during that stretch.
 
HAWKEYES IN THE FINALS
Senior Cory Clark advanced to the NCAA finals in 2017 to extend Iowa's streak of NCAA finals appearances to 28 consecutive years.
     Iowa has had at least one wrestler in the national finals every year since 1990, and in 42 of the last 43 seasons dating back to 1975.
 
NCAA QUALIFIERS
The Hawkeyes qualified nine student-athletes for the 2017 NCAA Championships. Iowa has sent at least eight athletes to the NCAA Championships in each of head coach Tom Brands' 11 seasons. The Hawkeyes won national titles with a nine-man lineup in 2008 and 2009. In 2008, Iowa had seven All-Americans and two NCAA champions. In 2009, Iowa won the team crown with five All-Americans but no champions. 
      Seven of Iowa's nine qualifiers earned automatic bids to the NCAA tournament at the Big Ten Championships. Joey Gunther and Cash Wilcke received at-large invitations.
 
BIG TEN CHAMPIONSHIPS
Seniors Sammy Brooks and Thomas Gilman won individual titles at the 2017 Big Ten Championships in Bloomington, Indiana.
      Brooks won the 184-pound title for the second straight year, and Gilman won his first conference title at 125 pounds.
      Senior Cory Clark and redshirt freshman Michael Kemerer placed runner-up at 133 and 157 pounds, respectively.
      The Hawkeyes finished third in the team race and placed seven wrestlers on the medal stand.
 
ACADEMIC ALL-BIG TEN
Nine Hawkeyes earned Academic All-Big Ten honors, including Stephen Alvarez, Michael Kemerer, Phillip Laux, Logan McQuillen, Aaron Meyer, Alex Meyer, Keegan Shaw, Brandon Sorensen, and Vince Turk. Iowa has had 80 academic All-Big Ten honorees since 2007, head coach Tom Brands' first year.
 
FRESHMEN QUALIFIERS
Iowa had three freshmen competiting at the 2017 NCAA championships — Michael Kemerer (157), Joey Gunther (165), and Cash Wilcke (197). It's only the second time, and first since 2011, that three Hawkeye freshmen competed at the national tournament. In 2011, freshmen Tony Ramos (133), Derek St. John (157), and Ethen Lofthouse (174) qualified for national tournament in Philadelphia, Pa. St. John finished fourth to earn his first of four All-America honors.
      Since 2007, Brands' first NCAA championships as Iowa's head coach, 15 freshmen have qualified for the NCAA tournament and six have gone on to win All-America honors (Matt McDonough 2010; St. John, 2011; Bobby Telford, 2012; Cory Clark, 2014; Brandon Sorensen, 2015; Michael Kemerer, 2017). McDonough won the national title in 2010 at 125 pounds.
 
MIDLANDS CHAMPIONSHIPS
Iowa won three individual titles and scored 150.5 points to win the 54th annual Midlands Championships.
      Thomas Gilman (125), Brandon Sorensen (149), and Michael Kemerer (157) won individual championships to lead Iowa to its tournament record 25th Midlands team title.
      Gilman won the Midlands Championship for the third time and was named Dan Gable Most Outstanding Wrestler of the Tournament, and Champion of Champions by his fellow first-place winners. He is the 12th Hawkeye in program history to win three or more Midlands titles.
      Sorensen won his second title and joined the prestigious 20-in-4 club, which requires a wrestlers to record at least 20 wins in their first four years of competition.
 
HAWKEYES RETAIN DAN GABLE TROPHY
The Hawkeyes won seven-of-10 matches to top Iowa State, 26-9, on Dec. 10 at Carver-Hawkeye Arena. The win was Iowa's 13th straight in the series, and awarded Iowa possession of the Dan Gable Traveling Trophy for seventh consecutive year. Iowa has owned the Dan Gable Traveling Trophy every year since its inception in 2010.
 
ROAD TRIPPING THROUGH THE B1G
Iowa has won 23 straight conference road duals. The Hawkeyes' last road loss was Jan. 22, 2012 at Penn State (22-12).
      The Hawkeyes were 5-0 on the road in the Big Ten this year, with wins at Purdue (34-3), Michigan (31-6), Michigan State (44-0), Minnesota (27-11), and Indiana (32-7).
 
B1G WRESTLER OF THE WEEK
Senior Thomas Gilman was twice named Big Ten Conference Wrestler of the Week in 2017.
      Gilman was first recognized on Jan. 3 after winning his third Midlands Championships title. He was later recognized Feb. 7 following a 21-8 major decision against Wisconsin's Jens Lantz, and after erasing an 8-0 deficit against Minnesota's sixth-ranked Ethan Lizak to record a fall in 5:58.
 
THE ATTENDANCE GAME
The Hawkeyes averaged 10,591 fans in five home duals against Iowa State (Dec. 10), Penn State (Jan. 20), Ohio State (10,338), Wisconsin (8,431), and Nebraska (9,830).
      Iowa led the nation in attendance for the 10th consecutive season in 2016-17 and averaged more than 8,000 fans for the ninth straight seasons. 
 
HAWKEYES AT HOME
The Hawkeyes are 239-24 all-time at Carver-Hawkeye Arena since moving from the UI Field House in 1983. The Hawkeyes have recorded 20 undefeated seasons in Carver-Hawkeye Arena, the most recent in 2012-13 (9-0).
      Carver-Hawkeye Arena has hosted two United States Olympic Team Trials, four Big Ten Championships (1983, 1994, 2005, 2016), and four NCAA Championships (1986, 1991, 1995, 2001). The Hawkeyes have won five tournament titles on their home mat, including the 1983 and 1994 Big Ten Championships, and the 1986, 1991 and 1995 NCAA Championships.
 
THE 100-WIN CLUB
Three Hawkeyes reached the 100-win plateau in 2016-17.  Senior Thomas Gilman won 32 matches to raise his career total to 107, tied for 35th all-time. Sammy Brooks finished his career with 102 wins, tied for 38th all-time, and Brandon Sorensen's last win of the season was his 100th career win. He is the 43rd Hawkeye in program history to reach 100 career wins. Among the other 42 wrestlers, Tom Brands has 158 wins, Terry Brands has 137, and Ryan Morningstar has 110.
 
HAWKEYE WRESTLING HISTORY
Iowa's overall dual meet record is 987-228-31 (.799) in 107 seasons. The Hawkeyes have won 23 national titles and 35 Big Ten titles. Iowa's 54 NCAA Champions have won a total of 82 NCAA individual titles, crowning six three-time and 16 two-time champions. The Hawkeyes' 112 Big Ten champions have combined for 199 conference titles. There have been seven four-time, 18 three-time, and 30 two-time Big Ten champions from Iowa.
      Iowa's 154 All-Americans have earned All-America status 324 times, including 19 four-time, 37 three-time and 39 two-time honorees.
 
CHASING THE HAWKEYES
Gary Kurdelmeier led Iowa to its first NCAA Championship in 1975, and in the 43 years since, the Hawkeyes have accumulated 23 team titles, more than any other school — Oklahoma State (7), Penn State (6), Minnesota (3), Iowa State (2), Ohio State (1) and Arizona State (1).