Hawkeye Fan Shop — A Black & Gold Store | 24 Hawkeyes to Watch 2016-17 | Hawk Talk Monthly — March | Week 12 Notes
Editor's Note: The following first appeared in the University of Iowa's Hawk Talk Daily, an e-newsletter that offers a daily look at the Iowa Hawkeyes, delivered free each morning to thousands of fans of the Hawkeyes worldwide. To receive daily news from the Iowa Hawkeyes, sign up HERE.
By CHRIS BREWER
hawkeyesports.com
IOWA CITY, Iowa — The first one is the hardest, but the fourth one is no cakewalk either.
 
On March 11, the University of Iowa women's tennis team snapped an 18-match Big Ten losing streak with a 6-1 win at home against Indiana.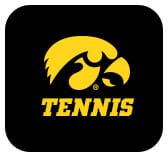 It was the first Big Ten win for first-year head coach Sasha Schmid. It was Iowa's first conference win since March 2015. It was the first of what has become a three-match Big Ten winning streak.
 
Simply put, it was a pretty big deal.
 
"That win was fantastic for them," said Schmid. "It got the monkey off their back. We had been on the board with three points, but that fourth point was a little hard because they were aware of the moment, and it was a big moment for them."
 
After packaging the moment and ditching the two-year-old monkey, the Hawkeyes reeled off a pair road wins at Wisconsin and Minnesota. Iowa defeated the Badgers, 6-1, in Madison on March 24, and two days later topped the Gophers, 4-2, in Minneapolis.
 
The Hawkeyes are 3-1 in the Big Ten for the first time in 2007, and the three-match conference winning streak is their longest since 2010. But their next hurdle may be as big as the first.
 
Iowa is chasing Big Ten win No. 4 — a number that has eluded the win column every year since 2010. That season the Hawkeyes finished 6-4 in the Big Ten and advanced to the NCAA Championships. Ever since that season, no Iowa team has won more than three conference matches in any single season.
 
That could change in 2017 for a number of reasons.
 
For one, Iowa is playing well and coming off what Schmid calls the most spirited effort of the season.
 
"Minnesota was collectively our best match as a team," Schmid said. "I've been reserved to acknowledge a great win, but Sunday was a great win. It's one of the best matches that I've been a part of as a coach. Ultimately, if you can get a group of girls to play for something larger than themselves, that's special. They fought so hard for each other."
 
Which leads to another reason: these Hawkeyes are in it together.
 
"They are a unified group," said Schmid. "They have stuck together and played as a unit. Against Minnesota, I didn't feel like we had six individual players in six individual matches. Each girl helped each girl play their match, and that was fun. That was the first time they grasped that and were able to execute playing hard for each other with tremendous spirit."
 
Time is also on Iowa's side. The calendar still reads March and the Hawkeyes have seven Big Ten matches remaining on the schedule. Illinois is up first beginning Friday at 2 p.m. (CT) at the Hawkeye Tennis and Recreation Complex.  The Hawkeyes' four-match home stand also includes dates with No. 47 Northwestern, No. 2 Ohio State, and Penn State.
 
"They are all good teams, but if we keep our daily practice standard high and play as a team with every ounce of spirit for something larger than themselves, then we have a chance," said Schmid. "I told them if we do that we will accept the outcome and get back to work. But we won't beat ourselves if we do those things correctly."