Hawkeye Fan Shop — A Black & Gold Store | 24 Hawkeyes to Watch 2016-17 | Hawk Talk Monthly — April 2017
Editor's Note: The following first appeared in the University of Iowa's Hawk Talk Daily, an e-newsletter that offers a daily look at the Iowa Hawkeyes, delivered free each morning to thousands of fans of the Hawkeyes worldwide. To receive daily news from the Iowa Hawkeyes, sign up HERE.
By JAMES ALLAN
hawkeyesports.com
IOWA CITY, Iowa — Ryan Erickson felt sick about the way his University of Iowa baseball career might have ended.
 
In 2016, the Mason City, Iowa, native took part in the Hawkeyes' Senior Day festivities May 15 at Duane Banks Field.  He was closing the book on his collegiate career with one year of eligibility remaining.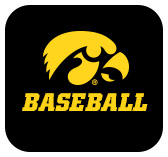 Two weeks after stepping on the turf at Duane Banks Field for the final time, Erickson's name was still on the board when the Hawkeyes played Ohio State in the Big Ten Tournament championship game at TD Ameritrade Park in Omaha, Nebraska.
 
Starter Calvin Mathews gutted his way through three shutout innings and the Hawkeye offense scored four runs over the first three frames. Iowa turned the game over to Erickson in the fourth, staking him to a 4-0 lead.  
 
Before he could blink, Iowa's lead was cut in half following three straight Buckeye hits. After recording a strikeout, Ohio State laced two more hits to cut the lead to 4-3 and end Erickson's day.  Ohio State scored five runs in the inning — all charged to Erickson — to take a 5-4 lead.
 
"I pitched terrible," said Erickson. "That was one of the worst games I have ever pitched.  It felt like I let a lot of people down, especially when we had a chance to move on and keep playing."
 
The bitter taste in Erickson's mouth grew more sour when he was bypassed in the Major League Baseball First-Year Player Draft. A year earlier, he went 4-1 with a 2.79 ERA during Iowa's NCAA Regional run and he turned down a professional offer to return to school.  Now his baseball career was potentially over. 
 
"Last year as the season went on, I had a couple of good weekends, but the majority of the time I was not pitching well," said Erickson. "I went from turning down a professional opportunity to not being drafted.
 
"That confused me and that's when I was thinking I should move on from baseball.  After my performance in the Big Ten Tournament, that's when I knew if coach (Rick) Heller was going to give me a shot to come back, I would 100 percent."
 
Erickson stayed in Iowa City during the summer and assisted with Iowa baseball summer camps. The coaching staff would reference his potential return, and by late June, the decision was made. Erickson went back to work.
 
"This summer I went to P3 (Premier Pitching & Performance in St. Louis) with (Nick) Gallagher, (Nick) Allgeyer, and Cole (McDonald), and the guys down there helped me a lot," said Erickson. "I worked hard in the offseason with plyometrics and weighted balls and set a goal for myself to get my arm in a better place. The past couple of years I would pitch and be out for a couple of days.
 
"Now I am starting Saturdays and my arm feels good."
Erickson began the year as a reliever before joining the weekend rotation Week 4 at Kansas State. He is 0-1 with a 3.00 ERA over 24 innings this season; he has allowed three runs or fewer in each of his three starts.
 
"This year mentally, I am in a lot better place," said Erickson. "I am having a great time teaching the younger kids the mindset on the mound. Last year I didn't have it and I learned what happens when you don't have that bulldog mindset.
 
"You have to compete every pitch and that's what I am trying to preach to the younger guys."
 
Erickson still thinks back to that championship game; he hopes to get a shot at redemption.
 
"I know in my mind that (Big Ten Tournament performance) will never happen again," he said. "That's the motivation to keep playing. If we ever get another chance, which I hope we do, that will not happen again.
 
"We have a lot of unfinished business in the Big Ten. I didn't want that performance to be my last as a Hawkeye."