Hawkeye Fan Shop — A Black & Gold Store | 24 Hawkeyes to Watch 2016-17 | Hawk Talk Monthly — April 2017
IOWA CITY, Iowa – The University of Iowa women's tennis team fell to No. 3 Ohio State, 7-0, Friday at the Hawkeye Tennis and Recreation Complex. The Hawkeyes are now 13-6 (3-4)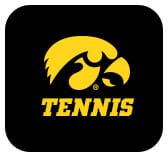 "I thought we played well today, and I'm pleased with the effort," said UI head coach Sasha Schmid. "It's always tough to lose, but Ohio State is a really good team and they have an impressive talent level on their team. We pushed them in doubles and every time we do that it proves that we can compete with the best teams in the country we were just a little short tonight."
 
Iowa and Ohio State split the No. 2 and No. 3 doubles positions, making the No. 1 position the match for the doubles point. Francesca Di Lonrenzo and Miho Kowase defeated Elise van Heuvelen and Adorabol Huckleby in a tiebreaker to win the match, 7-6, and clinch the doubles point for the Buckeyes.
 
No. 3 Ohio State fielded a team of five ranked players in singles play. The Buckeyes won each match in straight sets. Van Heuvelen battled but fell to top ranked Di Lorenzo, 6-3 6-4 at the No. 1 singles position.   
The Hawkeyes return to the court Sunday when they face Penn State at 10 a.m. (CT) at the Hawkeye Tennis and Recreation Complex. Admission is free.
 
 
 
 
#3 Ohio State 7, Iowa Hawkeyes 0
 
Singles competition
1. # 1Francesca Di Lorenzo (OSU) def. Elise van Heuvelen (IOWA) 6-3, 6-4
2. # 93 Gabriella De Santis (OSU) def. Zoe Douglas (IOWA) 6-2, 6-4
3. #74 Anna Sanford (OSU) def. Anastasia Reimchen (IOWA) 6-2, 6-1
4. #86 Miho Kowase (OSU) def. Montana Crawford (IOWA) 6-0, 6-3
5. Ferny Angeles Paz (OSU) def. Kristen Thoms (IOWA) 6-2, 6-1
6. #75 Sandy Niehaus (OSU) def. Adorabol Huckleby (IOWA) 6-3, 6-1
Order of finish: 3,4,6,5, 2, 1
 
Doubles competition
1. #22 Francesca Di Lorenzo/Miho Kowase (OSU) def. Elise van Heuvelen/Adorabol Huckleby (IOWA) 7-6
2. Zoe Douglas/Kristen Thoms (IOWA) def. #39 Gabriella De Santis/Sandy Niehaus (OSU) 6-3
3. Anna Sanford/Ferny Angeles Paz (OSU) def. Montana Crawford/Anastasia Reimchen (IOWA) 6-1
 
Order of finish: Doubles 3,2,1