Hawkeye Fan Shop — A Black & Gold Store | 24 Hawkeyes to Watch 2016-17 | Hawk Talk Monthly — April | Week 14 Notes
Editor's Note: The following first appeared in the University of Iowa's Hawk Talk Daily, an e-newsletter that offers a daily look at the Iowa Hawkeyes, delivered free each morning to thousands of fans of the Hawkeyes worldwide. To receive daily news from the Iowa Hawkeyes, sign up HERE.
By CHRIS BREWER
hawkeyesports.com
IOWA CITY, Iowa — Tied 3-3 and only one set away from giving the Hawkeyes their first win over a ranked opponent in three years, University of Iowa sophomore Adorabol Huckleby quickly reminded herself of one thing.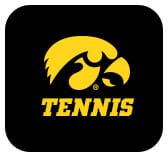 Don't do what you did last time.
Last time was March 13. Iowa was playing at Old Dominion and Huckleby had the opportunity to send Iowa home 4-3 winners. She split the first two sets and was the last Hawkeye standing in a match tied, 3-3. She lost the decisive third set, 6-1. The final point went to the Monarchs. Iowa lost, 4-3.
Four weeks later, the Hawkeyes were at home against No. 50 Wichita State. Iowa won the doubles point, but the Shockers won three of the first five singles matches. Again, with the match tied, 3-3, the deciding point would come from Huckleby's racquet.    
"To start the third set (head coach) Sasha (Schmid) told me to have fun, and of course I was in the moment and really intense," Huckleby said, "but once I calmed from the high of the second set and got into playing, my game just flowed."
Huckleby served out the set and won, 6-3. This time the final point went to the Hawkeyes.
"It was a thrill," Huckleby said. "It was my first 4-3 clinching win. I had a chance before and didn't get it done. This time it went my way."
"She had that moment where she fell short against ODU," said Schmid, "but she came back and learned what she could do better. She recalled that moment and it helped her in the same situation against Wichita State. She is getting better with experience."
It was a fitting ending for Iowa, watching Huckleby win in an eventual team victory. The Hawkeyes are 11-0 this season when Huckleby wins her singles match. 
When Huckleby wins, Iowa wins. Eleven times over. Not a small case sample. 
"That makes sense because it is so hard to get that fourth point," Schmid said. "We have a great group that can get to three, but picking up No. 4 is not easy. When Dori wins, I feel like we're able to get there."
Prior to her match-winner against Wichita State, Huckleby had lost four straight matches that went into the third set. But unlike the previous four matches, she entered this one believing she was the favorite to win. 
On March 31, Schmid inserted Huckleby into the top of the doubles lineup with freshman Elise van Heuvelen. It was a gutsy move by the coaching staff. Van Heuvelen and junior Zoe Douglas have spent parts of the season in the national rankings, but Schmid thought it was the right move at the right time.
"We weren't winning doubles points as often as we need to be," Schmid said. "Once I seriously considered splitting up Zoe and Elise, that's when I really thought Dori could move in there. So far it has transformed our matches because we can pull three singles from most competitive teams, but the fourth point is always tough. If we can get the doubles point, as you saw against Wichita State, it can make a difference in the match."
The move paid dividends for Huckleby. She has won two straight at the top of doubles and two straight at No. 6 singles — both Hawkeye wins. 
"Playing the No. 1 spot and getting wins at that spot is the best," Huckleby said. "Knowing that I'm capable of playing there gives me confidence in my singles matches. Elise is so fun that when she plays well, it makes you want to play well. The energy we give each other carries over to everyone and that makes for a good team."
The Hawkeyes are 15-6 overall and 4-4 in the Big Ten. They have three Big Ten matches remaining, starting this weekend at Michigan and Michigan State, before the conference tournament begins the final week of April. Iowa's only remaining home match is Saturday, April 22, beginning at noon (CT) against Nebraska at the Hawkeye Tennis and Recreation Complex.