Hawkeye Fan Shop — A Black & Gold Store | 24 Hawkeyes to Watch 2016-17 | Hawk Talk Monthly — May 2017 | Photo Gallery
By RICK BROWN
hawkeyesports.com
 
IOWA CITY, Iowa — The stories, nearly five decades old, came out of hibernation this weekend. But they were good as gold.
 
"We told some stories I hadn't heard in many years," Larry Schutzius said. "It seems like yesterday."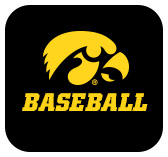 Iowa's 1972 baseball team, the only one in program history to make it to the College World Series, had its 45th reunion this weekend. The team was honored before Friday's game against Ohio State (a 9-5 Hawkeye victory) at Duane Banks Field.
 
And 26 members of head coach Duane Banks' team came back to tell stories, renew acquaintances, and talk about those good old days.
 
After a rocky start to that 1972 season, a players-only meeting turned things around.
 
"We had a little dissension early in the year," Fred Mims recalled. "So we had a team meeting to talk through the issues. We got on the same page and started winning games after that."
 
The Hawkeyes won their final 11 Big Ten games to capture the school's first outright league title since 1939, the same year Nile Kinnick won the Heisman Trophy.
 
And after losing its first NCAA Regional game to Central Michigan, Iowa won four straight elimination games to make it to the College World Series in Omaha, Nebraska. That included a sweep of Bowling Green on its home field to punch the Hawkeyes' CWS ticket.
 
What made this team click?
 
"Heart," said Banks, who coached the Hawkeyes for 28 seasons. "They weren't the most talented team I ever had — the 1989 and 1990 teams were the most talented — but that team was mentally tough.
 
"They refused to get beat. They fought for each other. It was a unique group. We didn't have enough pitching, but every time we sent someone out there they did the job."
 
The Hawkeyes finished the season 25-17 overall and 13-3 in the Big Ten, and were ranked ninth nationally in the final Collegiate Baseball poll. The season ended with some controversy.
 
Iowa drew No. 1 Arizona State in its first College World Series game. Iowa pitcher Mark Tschopp hurled a masterpiece, striking out 15 and allowing just three hits.
 
The Hawkeyes trailed heading into the bottom of the ninth, 2-1. With the bases loaded and two outs, Tom Hurn hit a line drive to center. The Sun Devils' Bump Wills appeared to trap the ball, but the umpires called it a catch.
 
Instead of a dramatic win, it was game over.
 
"It wasn't even close," Banks said. "I called all four umps together and called them some things I'm not proud of."
 
Bill Heckroth, one of Iowa's outstanding pitchers that season, recalled going up the elevator at the team hotel with some Arizona State players that night.
 
"One of the said, 'Hell yes that was a trap,'" Heckroth said.
 
Iowa then lost to Temple in the loser's bracket, and the season was over.
 
"Everyone asks what made our team special," Heckroth said. "It was the character of the players. Coach Banks always tells us, 'You guys weren't the best team I ever had, but you were the best 'team.""
 
Heckroth, who tied a team high with eight victories that season, was 5-0 in Big Ten play and pitched three shutouts, was one of four first-team All-Big Ten players on that Iowa team.
 
He was joined by outfielders Schutzius and Mims and Hurn, who played first base. Schutzius was the first Iowa player to lead the Big Ten in hitting in 31 years with his .444 batting average.
 
"It was going to be my last year of playing college baseball, and I told myself, 'Just relax and let the chips fall where they may,'" Schutzius said. "I saw the ball well and everything worked out."
 
Mims led the team in stolen bases (11) and runs scored (35) while hitting .348 against Big Ten competiton. Hurn hit .391.
 
"It seemed like every game, someone else took the lead and did something special," Mims said. "We had six or seven guys who could hit a home run at any time. We had a lot of pride in swinging the bats and doing the right thing, and the pitching was outstanding. We had some talent. A number of guys went on to play professionally."
 
None were more successful than catcher Jim Sundberg, who was drafted in the fifth round and signed a pro contract after his junior season in 1972. A second-team All-Big Ten selection, Sundberg went on to play 16 Major League seasons, winning six Gold Gloves, making the All-Star team three times and helping the Kansas City Royals win the 1985 World Series.
 
"We were a close-knit group," Sundberg said of the Hawkeyes. "We were kind of like some of those Oakland A's teams, kind of feisty. A team that got a lot out of their guys."
 
Sundberg and Mims were two of eight players on that team to sign professional contracts.
 
"We grew up together in Galesburg, Illinois," Mims said. "Jim and his dad convinced me to come here to Iowa. His dad talked to my mom. That's how I got here."
 
Now there's a story for you.