Hawkeye Fan Shop — A Black & Gold Store | 24 Hawkeyes to Watch 2016-17 | Hawk Talk Monthly — May 2017 | Photo Gallery
By DARREN MILLER
hawkeyesports.com
 
IOWA CITY, Iowa — Jake Adams can change the complexion of a baseball game with one swing of the bat. So can Corbin Woods and Robert Neustrom.
 
Adams homered in the seventh inning, Woods in the eighth, and Neustrom in the ninth Sunday leading the University of Iowa baseball team to an 11-10 victory over Ohio State by plating nine runs in the final three innings. It is the third consecutive series victory for the Hawkeyes, who have won eight of their last 12 series' dating back to the end of the 2016 season.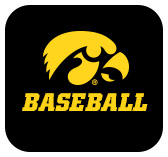 After defeating the Buckeyes 9-5 on Friday and losing 12-7 on Saturday, getting the upper hand in this series appeared in doubt after four innings with Iowa trailing, 8-2. The deficit increased to seven after six innings.
 
"We could have folded, but anything can happen in baseball — it's a weird sport," said Adams, who homered for a third consecutive game to give him 19 on the season.
 
Adams homered on the first pitch he saw with two outs in the seventh, scoring Chris Whelan and Woods.
 
"My home run kind of sparked everyone in the dugout," Adams said.
 
A 9-2 hole became 9-5.
 
An inning later, with Iowa down 9-6, Woods sauntered to the batter's box for his 16th plate appearance of the season. He deposited the fourth pitch he saw over the left field fence for his first home run and first three RBIs of the season.
 
The game was tied.
 
"You get feelings from time to time and I had a feeling (Woods) was going to do something special whether it was a home run or double," Iowa head coach Rick Heller said. "I was thinking to myself, if there are baseball gods, there is nobody on our team that deserves having them look down on him more than Corbin.
 
"He has never complained about not playing and he has been an awesome teammate. To have him come through like that was one of the best feelings I have had in coaching."
 
Ohio State scored a run in the top of the ninth inning that featured a great one-out catch by Neustrom in deep right-center field that saved three runs. So, after climbing out of a seven-run hole, a one-run deficit seemed like a piece of cake.
 
The first Hawkeye hitter in the bottom of the ninth inning was Adams, who worked the count full before sending a single between short and third and into left field. Before the at-bat, Heller pulled Adams aside and had two messages: Get off your best swing and once you get on, focus on my signs.
 
If Adams got on first base, Heller toyed with hit-and-run, delayed steal, or even bunt, and he wanted to be certain Adams was dialed in. But Neustrom wasn't interested in playing small ball.
 
"Bob (Neustrom) came up to me and said, 'Hey, get on for me. Trust me. Get on,'" Adams said.
 
"Coach Heller told me to be ready for anything: Be ready for bunt and I was like, 'No, man, I have a plan here," Neustrom said with a laugh.
 
The first pitch Neustrom saw from Ohio State right-hander Adam Niemeyer sailed swiftly toward center field and cleared the wall with ease to the tune of 446 feet. It was his fifth home run of the season and his first in 13 games.
 
"Robert has been struggling a little the past eight to 10 games," Heller said. "We didn't want to (bunt) because we keep thinking he is going to run into one eventually — he is too good of a hitter not to. Thank goodness we didn't; that was the best play, me not bunting him."
 
Iowa improved to 31-18 on the season, reaching 30-or-more wins in all four of Heller's seasons here. The Hawkeyes close their home season Tuesday against Nebraska-Omaha, then conclude the regular-season with a three-game set at Illinois from May 18-20.
 
"This win is a big boost," Adams said. "We have to give it our all next weekend, get the series win, and go into the conference tournament prepared as one of the top seeds."