Hawkeye Fan Shop — A Black & Gold Store | 24 Hawkeyes to Watch 2016-17 | Hawk Talk Monthly — May 2017
By DARREN MILLER
hawkeyesports.com
 
IOWA CITY, Iowa — Frigid temperatures and strong winds have held University of Iowa junior Jake Adams in check this spring. Opposing pitchers? Not so much.
 
Adams, a 6-foot-2, 250-pound slugger from Brandon, South Dakota, is heating up at the plate as postseason approaches. He has 19 home runs this season, three shy of John Knapp's single-season school record set in 1986. During a three-game series against Ohio State from May 12-14 at Duane Banks Field, Adams, a first baseman, went 6-for-12 with six runs, five RBIs, three walks, and a home run in all three games.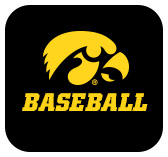 "The only time he has slowed down was when we had six or seven games in a row where we had the wind blowing in 30 miles an hour and cold weather," Iowa head coach Rick Heller said. "He was back to normal (against Ohio State); I could tell in batting practice he felt great. He is a great hitter."
 
The longest Adams has gone without a home run was during a six-game stretch against Nebraska, Bradley, and Rutgers from April 15-23. His solo shot Friday against the Buckeyes ended a four-game long-ball drought.
 
"I don't want to go up there every time thinking I'm going to hit a home run," Adams said. "I want to think base hit because if I do that, I sit back a little longer and that's how the home runs come. I want to go up there nice and relaxed because that's how you get your base hits and home runs."
 
Sure, Adams provides plenty of pop, but it would be condescending to refer to him solely as a power hitter. After seven February games this season, Adams was batting .231 with two home runs. In the months of March, April, and May he is hitting .361 with 30 singles, 14 doubles, and 17 home runs. Adams' batting average was .382 in March, .324 in April, and .407 in May; he owned a 10-game hitting streak from March 25-April 9.
 
A primary example of Adams' unselfishness at the plate came in the bottom of the ninth inning of Iowa's 11-10 comeback victory over the Buckeyes on May 14. Two innings earlier, a three-run home run by Adams turned a 9-2 deficit into a four-run game. It would be understandable for a guy with 19 home runs to look toward the outfield fence again.
 
But with a full count, Adams led off the rally by slapping a single between shortstop and third base into left field. That set the table for Robert Neustrom's walk-off two-run home run.
 
"Getting the hit with two strikes to start the inning was huge," Heller said. "He is a big-time hitter; the thing about Jake is he thrives in the big moment, too. He wants to be up there when the game is on the line. He wanted that shot and was unselfish enough to do what he had to do to get a single and get on base. He didn't just swing for the fence with two strikes; he knew he had to get on base, he is a good baseball player."
 
Adams was rewarded by the Big Ten on Monday, when he was selected as the conference Player of the Week for a second time. For the season he is batting .344 with 67 hits, 57 RBIs, and 24 walks.
 
Iowa (31-18) returns to action tonight, hosting Omaha at 6:05 (CT) in its final home game of the season. The Hawkeyes travel to Illinois from May 18-20 to close out the regular season.
 
"We have to give it our all this weekend, get the series win, and go into the conference tournament prepared as one of the top seeds," Adams said.