Hawkeye Fan Shop — A Black & Gold Store | 24 Hawkeyes to Watch 2016-17 | Hawk Talk Monthly — May 2017 | B1G Baseball Tournament Central | Game Notes — vs. Nebraska (PDF)
| | |
| --- | --- |
| Date: | May 26, 2017 |
| Location: | Bloomington, Ind. (Bart Kaufman Field) |
| Game Notes: | IOWA | Nebraska |
| Statistics | IOWA | Nebraska |
| | |
| Radio/Streaming: | Hawkeye Radio Network | Hawkeye All-Access ($) |
| Live Stats: | Live Stats  |
| Television/Video Streaming: | BTN | BTN2Go   |
| | |
| Game 2 | May 26 | 12:30 p.m. (CT)  | |
| Pitching Matchup:  | Iowa: LHP Ryan Erickson (2-3, 3.32 ERA) |
| | NEB: RHP Derek Burkamper (6-4, 3.05 ERA) |
NEXT UP
The fifth-seeded University of Iowa baseball team faces top-seeded and 21st-ranked Nebraska in a Big Ten Tournament quarterfinals matchup Friday at 12:30 p.m. (CT) at Bart Kaufman Field in Bloomington, Indiana.  
• The winner of the Iowa-Nebraska game will advance to a semifinal contest Saturday at 9 a.m. (CT).  The loser will play an elimination game against Maryland on Friday at 7:30 p.m. (CT).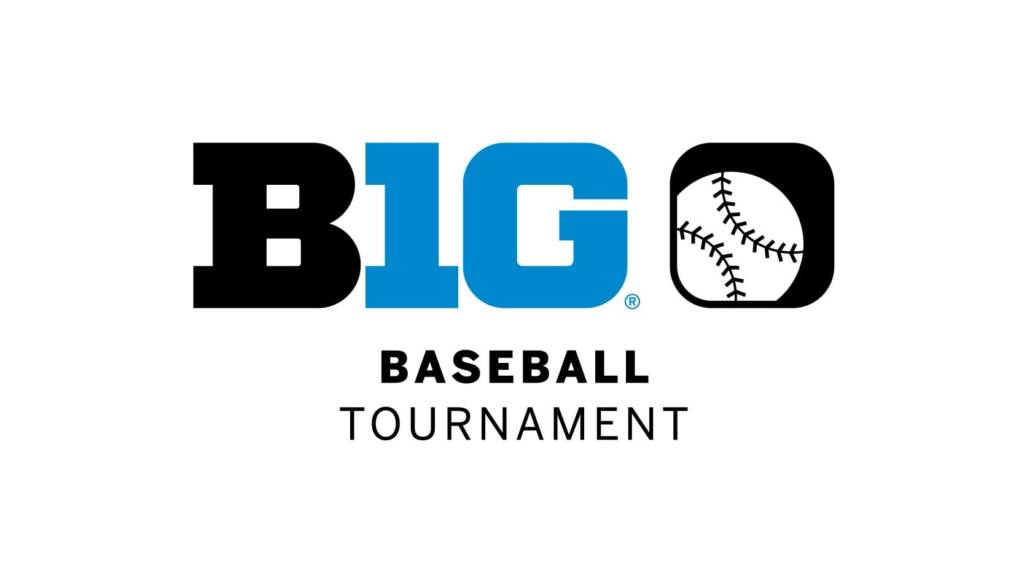 GAME COVERAGE
• The duration of the Big Ten Tournament will be carried on select stations around the state via the Hawkeye Radio Network and be streamed online via Hawkeye All-Access with Zach Mackey and Steve Duncan on the call.
• Select games will be available on AM-800 KXIC in Iowa City and all three contests will be on WDBQ in Dubuque.  
• The entire Big Ten Tournament will be televised on BTN and be available on BTN2Go.  Kevin Kugler and Scott Pose will be on the call for Iowa-Nebraska.
• Live statistics will be available at www.hawkeyesports.com and fans can follow the action via Twitter/UIBaseball.
PITCHING MATCHUP
Friday's pitching matchup in the Big Ten Tournament quarterfinals will be a rematch of the April 15 meeting in Lincoln — a matchup Iowa won 5-3.  Iowa will send senior LHP Ryan Erickson to the hill for his 11th start, while Nebraska will counter with senior RHP Derek Burkamper, a Muscatine, Iowa, native.
• Erickson earned his first career victory as a starter against Nebraska, allowing three runs (two earned) on six hits over six innings. It was his first career quality start.  The Mason City, Iowa native is 2-3 with a 3.32 ERA in 2017 with three quality starts. He is 1-0 with a 4.32 ERA in two appearances against Nebraska, allowing four runs on nine hits over 8 1/3 innings with five strikeouts to five walks.
• Burkamper, who is 6-4 with a 3.05 ERA this season, is 0-2 with a 5.91 ERA all-time against the Hawkeyes.  Iowa roughed him up for five runs (four earned) on 10 hits over 4 1/3 innings in a 5-1 Iowa win in 2015.  This season, Iowa scored three runs on six hits over 6 1/3 innings in the 5-3 victory on April 15.
SERIES REVIEW
• The Hawkeyes took 2-of-3 games from Nebraska over Easter weekend in Lincoln, the program's first series win at Nebraska in school history. 
• Iowa hit .296 as a team and averaged six runs per game.  Jake Adams hit .500 (7-of-14) with four doubles, a home run, and three RBIs, while Robert Neustrom hit .400 (6-of-15) with three RBIs. Chris Whelan, Matt Hoeg, and Tyler Cropley all had three RBIs in the series.
• Cropley's RBI single in the 10th inning lifted Iowa to a 7-6 victory in the series opener.  Iowa pounded out 13 hits, including a three-hit performance from Jake Adams. Whelan, Neustrom, and Mitchell Boe had two-hit games, Cropley had three RBIs.  Josh Martsching earned the win, tossing 2 1/3 innings of shutout relief.
• Ryan Erickson pitched Iowa to the series-clinching 5-3 win, going six innings, and sophomore Shane Ritter pitched the final three innings for the save.  Whelan, Adams, and Neustrom accounted for six of Iowa's 10 hits with Adams driving in two runs.
• Nebraska averted the sweep, scoring three runs in the bottom of the eighth to rally for an 8-6 win in the series finale.  Adams, Neustrom, and Hoeg had two-hit games, and Neustrom and Hoeg had two RBIs apiece. Nick Nelsen took the loss (1 1/3 inings, 2 runs).
B1G TOURNEY NOTES
• Iowa is the only team in the Big Ten to win at least one tournament game in each of the past four seasons.  The Hawkeyes edged Maryland, 9-8, on Thursday afternoon.
• Iowa and Nebraska have never met in the Big Ten Tournament.  Iowa is 7-2 against the Huskers under head coach Rick Heller.
• Iowa is 6-5 in Big Ten Tournament play under Heller.  The Hawkeyes took out top-seeded Minnesota in their opening round game en route to their Big Ten Tournament championship game run.
• The win over Maryland was Iowa's 35th of the season — the seventh-most in a single season in program history.
• Iowa hit three home runs against Maryland, extending the home run streak to eight straight contests.  The Hawkeyes have 19 home runs during the stretch.
• Sophomore Robert Neustrom hit his ninth home run of the season, giving him four home runs over the team's last four games.  
• Freshman Grant Judkins finished 2-for-5 against the Terps for his sixth career multi-homer game.  It ran his reached base streak to 15 straight games.
IOWA TIDBITS
• Twenty-seven games have been decided by two runs or less this season; Iowa is 17-10. 
• The Hawkeyes have overcome deficits in 20 of their 35 victories this season.  Iowa has posted walk-off victories in four games this season.
• The Hawkeyes have 12 wins this year when either trailing or being tied entering or through seven innings.  Eight wins have come in their final at-bat.
• Iowa has scored six or more runs in each of its last nine games and have 10 or more hits in seven of the nine contests.  The Hawkeyes are hitting .319 during the stretch and are averaging 8.4 runs per game. Iowa had an 11-run outburst May 14 against Ohio State, the most runs scored since April 7 (14 at Northwestern).
• Mason McCoy's 16 doubles this season are tied for the 14th-most in a single season in program history.
• Junior Jake Adams went 0-for-5 against Maryland and didn't reach base safely in the contest for just the seventh game this season.
• Junior Tyler Cropley hit his first home run since April 29 against Maryland.  He finished 2-for-3 with three runs scored. It was his 13th multi-hit game of the season.
B1G SUCCESS
• Sophomore Robert Neustrom is hitting .471 (8-of-17) with four runs and four RBIs in five career Big Ten Tournament games.  The outfielder finished 1-for-4 with a solo home run in the win over Maryland.
• Senior Mason McCoy is hitting .320 (8-of-25) with a double, three runs, and seven RBIs in five career postseason games.