Hawkeye Fan Shop — A Black & Gold Store | 24 Hawkeyes to Watch 2016-17 | Hawk Talk Monthly — May 2017 | Photo Gallery
HOUSTON, Texas — The University of Iowa baseball team departed the Eastern Iowa Airport shortly before 5 p.m. (CT) Wednesday afternoon and its charter flight landed in Houston at 7:14 p.m.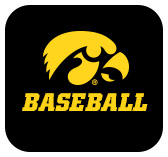 It's officially NCAA Regional time.
 
The Hawkeyes will play in their second NCAA Regional in three seasons, opening tournament play against top-seeded Houston on Friday night at 7:04 p.m. (CT).  The game will be televised on ESPNU.
 
"It's awesome to be back here again," said junior Austin Guzzo. "We were (in regionals) in 2015, and we had a heck of a team that year, and I think we're looking at a good spot with the team we have. We have a great offense and pitching."
 
Iowa earned the right to continue its season by going 4-1 in Bloomington, Indiana, to win its first Big Ten Tournament title in program history.  The Hawkeyes rolled to the title, dropping Northwestern, 13-4, in Sunday's title game.
 
"We're building off our momentum of beating Northwestern and a lot of guys are loose and confident," said Guzzo. "We come here as the No. 4 seed, so we don't have a lot to worry about, we can just go out and play.
 
"The odds are against us, we just have to go out and play hard. We have nothing to lose."
 
Guzzo didn't see any game action at the Springfield Regional in 2015, but he still remembers the buzz and game intensity. He's excited to experience it again.
 
"This is an atmosphere that is surreal and you can play off the adrenaline alone," said Guzzo. "To play on such a big stage with three Texas schools is unreal and everyone is excited for it."
 
The Hawkeyes will take the field at Schroeder Park for the first time Thursday.  Iowa's afternoon practice is slated to take place from 2:30-3:45 p.m.