Hawkeye Fan Shop — A Black & Gold Store | 24 Hawkeyes to Watch 2016-17 | Hawk Talk Monthly — June 2017
 
 
IOWA CITY, Iowa — Desi Druschel, who has spent the past three seasons as the University of Iowa baseball program's director of baseball operations, has been promoted to a full-time assistant coach, UI head coach Rick Heller announced Thursday.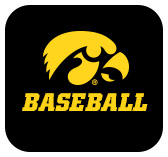 Druschel will serve as the Hawkeyes' pitching coach, where he will inherit a staff that broke the single season strikeouts record and posted a 4.39 team ERA. Iowa has 10 pitchers returning in 2018.
 
"We're excited to have Desi as our new pitching coach," said Heller. "He has been an integral member of our staff the past three seasons and I am confident he'll do an excellent job as an assistant and on the recruiting trail. Desi is as good as it gets on the player development side.
 
"He's a perfect match for where our program is right now and we were able to hit the ground running with our training for the World University Games in August. I believe Desi will help the program continue to move forward."
In his first three seasons in Iowa City, Druschel helped lead Iowa to 110 wins, two NCAA Regional appearances, the first Big Ten Tournament title in school history, and two Big Ten Conference runner-up finishes. The Hawkeyes were the regular-season runner-ups in 2015 and finished second at the 2016 Big Ten Tournament.
Iowa has had five All-America, four all-region, and 13 All-Big Ten selections in the past three seasons and 12 players have been selected in the Major League Baseball First-Year Player Draft.
 
"I am excited for the opportunity and am looking forward to growing what Iowa baseball has become the past four years," said Druschel. "Rick, Scott (Brickman), Marty (Sutherland), and the rest of the staff has put Iowa on the baseball map. We're all looking forward to continuing the program's growth."
In 2017, Iowa won 39 games — the fifth-most in program history — and claimed the first Big Ten Tournament title in program history to earn an automatic bid into NCAA Regional play. The Hawkeyes saw five players garner All-Big Ten recognition, including unanimous first-team All-Big Ten first baseman and unanimous Big Ten Player of the Year honoree Jake Adams. 
 
Adams' lone season in Iowa City was one for the ages, as the South Dakota native hit an NCAA leading, Iowa school and Big Ten record 29 home runs. He was recognized for his efforts, earning All-America distinction from seven different outlets and he was a semifinalist for USA Baseball's Golden Spikes Award, an honor presented to the top amateur in the United States.
 
Iowa's Ben Norman and Kyle Shimp also earned freshmen All-America honors from Collegiate Baseball.
The Hawkeyes had four players drafted in the Major League Baseball First-Year Player Draft.  Adams and senior Mason McCoy were selected within seven picks of one another in the sixth round.  They were the program's highest draft picks since 1999 and the highest by a position player since 1992.  Nick Gallagher and Ryan Erickson also had their names called in the 16th and 30th rounds.
In 2016, Druschel helped the Hawkeyes to a 30-26 record — the program's third straight 30-win season. Iowa won its final two league series to qualify for the Big Ten Tournament for a third consecutive season and carried its momentum into Omaha, where it won its first three games to advance to the tournament title game for the first time since 2010.
The Hawkeyes had two first-team All-Big Ten position players in outfielder Joel Booker and shortstop Nick Roscetti — the first duo to earn first-team honors in the same season since 2007. Booker was a semifinalist for the Gregg Olson Breakout Player of the Year Award, while Roscetti was a semifinalist for the Brooks Wallace Shortstop of the Year Award. Booker, Roscetti, and Tyler Peyton were selected in the 2016 Major League Baseball First-Year Player Draft.
In his first season in Iowa City, Druschel helped lead the Hawkeyes to one of their best seasons in program history. Iowa won 41 games — the second-most all-time — and earned an at-large berth into NCAA Regional play for the first time since 1990. Iowa won two games at the Springfield Regional for their first NCAA Tournament victory since 1972. The Hawkeyes finished in the final national rankings for the first time in school history, coming in at No. 20 by Collegiate Baseball, 25th by Baseball America, and 28th by the NCBWA.
Iowa had three All-America and a school-record six All-Big Ten selections, and five players had their names called in the 2015 Major League Baseball First-Year Player Draft, including Blake Hickman, who was the program's highest draftee since 1999.
Before joining the Iowa coaching staff, Druschel won 172 games, advanced to a pair of NAIA Region VII Tournaments and posted two conference runner-up and two third-place finishes as head coach at Mount Mercy College in Cedar Rapids, Iowa, from 2006-14. He coached three honorable mention All-Americans, 22 all-conference selections, and 12 Gold Glove honorees.
Druschel also coached three NAIA Scholar Athletes, three all-region scholar athletes and 33 academic all-conference selections. Druschel initially joined the Mount Mercy staff prior to the 2005 season as an assistant coach before being promoted to the head position a year later.
Druschel has also served as head coach at The Franciscan University (now Ashford University) in Clinton, Iowa, from 2001-04, where he helped the Saints set 45 school records. He also was an assistant at Mount St. Clare College (2000-01), Indiana University (1999-00), and Vinton-Shellsburg (Iowa) High School (1996-2000) during his coaching career.
Druschel, a member of the American Baseball Coaches and Iowa High School Baseball Coaches Associations, played baseball and basketball collegiately at Upper Iowa and Mount Mercy from 1994-98.
The Vinton, Iowa, native graduated from Mount Mercy with a bachelor's degree in management in 1998, and he earned his master's degree in athletic administration from Indiana in 2001. He and his wife, Jessica, have two children, Jace and Halle.