Hawkeye Fan Shop — A Black & Gold Store | Hawkeyes in the NBA | 2017-18 Men's Basketball Ticket Wait List
Editor's Note: The following first appeared in the University of Iowa's Hawk Talk Daily, an e-newsletter that offers a daily look at the Iowa Hawkeyes, delivered free each morning to thousands of fans of the Hawkeyes worldwide. To receive daily news from the Iowa Hawkeyes, sign up HERE.
By RICK BROWN
hawkeyesports.com
IOWA CITY, Iowa — The University of Iowa men's basketball team has a pair of ready-made tour guides in place when they visit Italy, Germany, and Switzerland next month.
 
"I've been to Italy twice," junior forward Nicholas Baer said. "Dom Uhl will take Germany. Switzerland is up for grabs."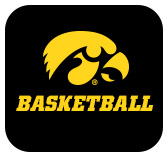 Uhl, a senior forward from Frankfurt, Germany, can handle his homeland. And Baer's got Italy covered. Experience of another kind will come in handy when the Hawkeyes play four games on their tour.
 
Iowa returns 11 of its top 12 scorers and rebounders from a 19-15 team. That includes 76.7 percent of the scoring and 86.2 percent of the rebounding. Add a pair of 6-foot-11 freshmen bookends in Jack Nunge and Luka Garza and you have the deepest team Fran McCaffery has had in his 21 seasons as a head coach.
 
"Without question it's the deepest team I've been around," said McCaffery, heading into his eighth season at Iowa. "That's going to be the fun of it."
 
A season ago, there were more questions than answers about the Iowa team. McCaffery returned just one starter, Peter Jok. Now, Jok is the only face missing from the rotation.
 
Expectations have changed. The same could be said for sophomore guard Jordan Bohannon. People wondered if he was good enough to play in the Big Ten. He ended up the team's third-leading scorer at 10.9 points a game and had a team-best 175 assists while making the Big Ten's All-Freshman team.
 
"He has a confident approach to what he does," McCaffery said. "He'll improve as he gets more experience."
 
The fact that Bohannon is following in the footsteps of three older brothers who played Division I basketball brings plenty of expectations with it.
 
"They're expecting way more than I expect from myself sometimes," Bohannon said.
 
Forward Tyler Cook joined Bohannon on that Big Ten All-Freshman team after finishing the season as the Hawkeyes' No. 2 scorer (12.3 points) and rebounder (5.3). Cook missed seven games with a finger injury, which led to some inconsistent play. But he looks like a confident, complete player in practice.
 
"He has figured it out," McCaffery said. "He's to the point now where I'm comfortable with where his game is. He's all over the glass, he's challenging guys at the rim, he's running every time. He's in a good place."
 
Cook is excited about the tour for several reasons.
 
"We want to go over there and have fun, first and foremost," Cook said. "It's a once-in-a-lifetime opportunity, and we want to go over there and soak up what we can because a lot of us haven't been out of the country before. Basketball wise, we are trying to get a feel for each other on the court. Being able to play a few games over there will help us chemistry-wise, especially with the new guys."
 
Nunge is one of those new faces, using practice to acclimate himself to the system he'll be playing.
 
"It has been a big help, playing with these guys," Nunge said. "Practices have been intense and that's big since we get to go over to Europe."
 
McCaffery says his returning players have taken a step forward, which will make for some interesting competition for minutes once practices resumes in the fall.
 
"A lot of them played a lot last year," McCaffery said. "So they can say, 'OK, I know what I've done, I know what I'm capable of and what we need more of in certain areas.' Some guys need to be more aggressive. Certain guys need to make sure they can play more than one position. Luckily, we have a lot of versatile guys. That will help us with our dispersal of playing time."
 
Competition for those minutes should be intense when practice starts in earnest this fall.
 
"The fact that we have so many guys at the four (power forward) and five (post) positions is going to help us tremendously by pushing each other every day," Cook said. "Whatever guys we have on the floor, we're going to be in good shape."
 
McCaffery doesn't plan to use the tour to start shaping his rotation for the 2017-18 season.
 
"I'm just going to try and play everybody as evenly as possible and not worry about that until later," McCaffery said.