Hawkeye Fan Shop — A Black & Gold Store | Fight For Iowa | Hawkeyes in the NBA | 2017-18 Men's Basketball Ticket Wait List | European Tour Central
Editor's Note: The following first appeared in the University of Iowa's Hawk Talk Daily, an e-newsletter that offers a daily look at the Iowa Hawkeyes, delivered free each morning to thousands of fans of the Hawkeyes worldwide. To receive daily news from the Iowa Hawkeyes, sign up HERE.
By RICK BROWN
hawkeyesports.com
IOWA CITY, Iowa — When the University of Iowa men's basketball team departs for its 12-day, four-game tour of Italy, Germany, and Switzerland on Sunday, culture and team bonding will be as important as the competition.
 
Consider it the appetizer. Because when practice for the 2017-18 season opens this fall, competition for playing time will move to the top of the list.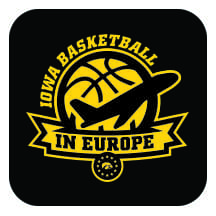 "We have a lot of good pieces," said Iowa head coach Fran McCaffery. "We have size, versatility, and enough shooters and ball-handlers. The other thing we have is a cerebral team. That gives me and my staff the flexibility to do a lot of different things at both ends of the floor when you have guys who can think and make adjustments during the game. It will be a battle for playing time, but I believe it will help us rebound and run."
 
McCaffery returns 11 of his top 12 scorers from a year ago, as well as freshman frontliners Luka Garza and Jack Nunge. The team will have 10 practices under its belts when it heads overseas.
 
Though McCaffery said he won't use the tour to start settling on a rotation, the four games overseas will be beneficial once those practices start for real.
 
"These games and practices give us an opportunity to see what lineups fit and who has developed," junior forward Nicholas Baer said. "We have 12 or 13 guys trying to play. This overseas trip gives a lot of these players the opportunity to get some real experience."
 
When Baer looks ahead to the start of practice, two words come to mind: open season.
 
"Everybody is fighting for minutes and fighting for position," Baer said. "I'm excited about it. No one has a lock on a position. It will make us a better team."
 
Nunge and Garza, both 6-feet-11 inches tall, will be among those battling for playing time. Nunge was named most valuable player of the Prime Time League over the summer and McCaffery isn't shy about using rookies. Tyler Cook, Jordan Bohannon, and Cordell Pemsl all started at least 14 games last season as true freshmen. Ryan Kriener gave the team four rookies who saw action in at least 27 games. That doesn't count redshirt freshman Isaiah Moss, who started 28 games.
 
"The freshmen are ready to contribute," Bohannon said. "We saw that in the Prime Time League. A lot of them were hunting their shots, which is a good thing. We want them to be aggressive from the start. We want the freshmen to have that mindset coming in. With how deep we are, it's going to be competitive each and every day in practice."
 
Bohannon and Cook, members of the Big Ten's All-Freshman team last season, are the two leading returning scorers. Cook averaged 12.3 points, and was also second on the team in rebounding at 5.3. Bohannon averaged 10.9 points and a freshman school-record 175 assists.
 
Cook spent the offseason polishing his skills, especially on the offensive end.
 
"My main focus is to be a better scorer, then ball-handling, and controlling my pace," Cook said. "It's being a better leader on the court when I have the ball in my hand and when I don't have the ball in my hand. I worked on scoring from the post, mid-range, and from 3 as well."
 
All that will make Cook a better player and Iowa a better team. So will the competition for spots in McCaffery's rotation.
 
"The practices have been interesting so far," Cook said. "The new guys have come in not shy at all, which is good. They've come in aggressive."