Hawkeye Fan Shop — A Black & Gold Store | Fight For Iowa
IOWA CITY, Iowa — Two months ago Thomas Gilman was fighting for a spot on the United States World Team. In two weeks he'll be weighing-in for a chance at a world title.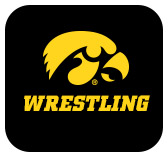 Gilman, a three-time All-American at Iowa from 2015-17, will represent the U.S. at the 2017 World Championships in Paris, France, on Aug. 25.
 
On Thursday he was going through his final domestic workout before departing for Germany on Saturday to join his USA teammates in Germany for another training camp.  
 
"Today is my last workout here in the states and my last really hard workout," Gilman told media Thursday inside the Dan Gable Wrestling Complex. "After today the training is done and behind us. Then it's all about feeling good, staying sharp, and being short and intense."
 
Gilman is competing on his fourth United States World Team. He was on the U.S. cadet team in 2011, and the junior world teams in 2013 and 2014.
 
He earned his way back into the international picture after working his way through a murderer's row in the 57 kg bracket at the World Team Trials in June. Later that month, he jumped overseas and won the Grand Prix of Spain, his first international competition since winning bronze in 2014.
 
"Spain was a good experience," Gilman said. "Getting down to weight, getting acclimated there, and just wrestling. It was good to feel that again, it's been a couple years. They play their own kind of game and strategize a little bit, so it was good to feel that; feel the kinks in my armor and work on those things."
 
He said everything about his approach on the mat has improved in the five months since the college season ended, and he's wrestling better than ever before.  
 
"My training has been going really well. I can honestly say that since nationals I've learned something about myself every day. Whether it was on the wrestling mat, about myself, or in the world in general, I've learned something every day. I'm very confident with that. My conditioning and strength is the best it's been in my entire life. I feel good about that."
 
He's also found himself in pretty good company. Two-time NCAA champion Matt McDonough will be his sparring partner in advance of the championships, and Team USA is littered with young talent at the senior level, including Olympic and World champions Jordan Burroughs, Kyle Snyder, and Logan Stieber.  
 
"It's been awesome to get to know those guys," Gilman said. "They're all high-level thinkers. They all train hard and live the right kind of lifestyle that I do and I aspire to do. It's been good to train alongside them and learn from them too. Not just learn from my coaches but also my teammates and contemporaries."
 
The 57 kg world champion will be decided Aug. 25. The elimination rounds and repechage begin at 3 a.m. (CT). The finals are at noon. A live stream is available at trackwrestling.com/uww.