Hawkeye Fan Shop — A Black & Gold Store | 2017-18 Men's Basketball Ticket Wait List | European Tour Central | Verona Photo Gallery | Box Score (PDF) | European Tour Final Cume Stats (PDF) | Boxscore
By MATTHEW WEITZEL
hawkeyesports.com
VICENZA, Italy — Tyler Cook and Luka Garza posted double-doubles to lead the University of Iowa men's basketball team to an 88-49 triumph over the Vicenza All-Stars Monday evening. The win improved the Hawkeyes' record to a perfect 4-0 on their European Tour.
 
Both Cook and Garza played 23 minutes each with Cook totaling 16 points and 10 rebounds, while Garza tallied 24 points and 14 boards. A total of 12 Hawkeyes scored in the contest.
 
Defensively, the Hawkeyes out-rebounded Vicenza by 24 (59-35), blocked seven shots, and collected a staggering 18 steals. Iowa held Vicenza to just 21 first-half points, including nine in the second period.
HAWKEYE PERFORMERS OF THE GAME
The dup of Luka Garza and Tyler Cook combined for 40 points on 18-of-23 (.783) shooting from the field, while also grabbing 24 total boards and rejecting four shots. Garza finished the four-game trip averaging 22.5 points and 10.3 rebounds, while Cook averaged 12.3 points and 5.5 boards.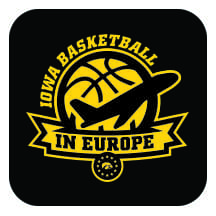 STAT OF THE GAME
Iowa collected 18 steals, with the starting backcourt combining for eight thefts. Jordan Bohannon and Isaiah Moss were credited with a team-best four steals each.
COACH McCAFFERY'S COMMENTS
"I thought tonight was really impressive. It was a long day. We got up early, we bused across Italy with a stop in Verona. It was hot in Verona, the players walked around a little. They saw the Arena di Verona, Romeo and Juliet's balcony, had some dinner, and then got here and revved it up. For the 40 minutes, everyone was locked in. We didn't shoot it well, but we still won by 39, so that says a lot about our defense and intensity level."
 
On overall thoughts of the trip:
"We accomplished what we wanted to in a lot of different ways. Everybody played, we played different combinations, we had phenomenal practice sessions, and we got opportunities for our incoming freshmen to contribute in a big way.'
TYLER COOK'S COMMENTS
"They gave us some problems early because they are quick and were moving the ball well, but as the game went on we found our groove both offensively and defensively. I feel like our defensive activity tonight was the best of the four games we played over here."
 
NOTABLES
Tonight's starting lineup featured Jordan Bohannon, Isaiah Moss, Tyler Cook, Ahmad Wagner, and Luka Garza.
Iowa yielded only 49 points to Vicenza, the lowest total by any of its four opponents in Europe.
Iowa shot 50 percent or better from the field in three of the four quarters. The Hawkeyes were 50 percent (37-of-74) from the field for the game.
UP NEXT
Iowa will spend the next three nights and two days in the city of Venice, Italy. The team will return to the United States on Thursday.