Hawkeye Fan Shop — A Black & Gold Store | 24 Hawkeyes to Watch – 2017-18 | Fight For Iowa | USA Team World University Games Central
By JAMES ALLAN
hawkeyesports.com
TAIPEI, Taiwan — A little more than nine hours after settling into the Athletes' Village, USA Team took the field and posted a 10-5 exhibition victory over the Czech National Team on Thursday afternoon on the campus of National Taiwan Sports University.
 
The game was an agreed upon seven-inning contest.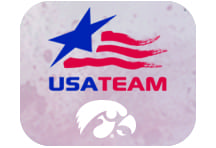 "I didn't know what to expect coming off the long day of travel, but this is exactly what we needed," said head coach Rick Heller. "We needed to get out, do something, and get acclimated to the heat. This was a lot more beneficial than going out and having an intrasquad contest.
 
"Hats off and thanks to the Czech guys for setting this up, Jim Magrane on our side for arranging this up with his people, and the guys at this field. There were a lot of parts that were needed to make this happen."
 
USA Team jumped out to a 3-0 lead in the first inning on a three-run home run from sophomore Robert Neustrom.  The sophomore made it 6-1 in the third, connecting on his second three-run shot to deep right center field.  Mitchell Boe added a two-run single, and Chris Whelan roped a two-run double in the frame.
 
Neustrom finished 3-for-4 with six RBIs in the game.  Junior Shane Ritter threw two innings in the start, while Ben Probst, Jack Dreyer, Justin Jenkins, and Brett McCleary saw their first action on the mound as Hawkeyes.
 
"It was a very long day; it feels like we haven't sat down since practice on Tuesday," said Neustrom. "This is going to be a fun trip. It's going to be grueling at times, but we're going to come out and play our game."
 
USA Team will take part in the World University Games' official flag raising ceremony Friday morning before practicing at Taipei Tianmu Baseball Stadium in the afternoon.  Iowa faces Mexico at the venue Sunday at 5:30 a.m. (CT).