Hawkeye Fan Shop — A Black & Gold Store | 24 Hawkeyes to Watch – 2017-18 | Fight For Iowa | USA Team World University Games Central | Photo Gallery
 
 
By JAMES ALLAN
hawkeyesports.com
TAIPEI, Taiwan — Friday morning marked the official welcome for USA Team to the Athletes' Village as the United States flag was raised in the Flag Plaza.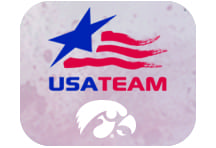 The World University Games Flag Plaza features 180 flag poles, forming a symbolic U in reference to the "Universiade."  The United States, Netherlands, Kenya, Argentina, and Malta had their delegates present to raise their flags and present gifts.
 
USA Team's residence for two weeks is the Athletes' Village, a facility that will house nearly 8,000 athletes. The facility is a new construction that will keep athletes busy with a recreation area that includes ping-pong tables, video games, and karaoke. 
"The village is something special," said sophomore Justin Jenkins. "It's better than anything I expected coming to Taiwan. It's huge; I have never seen this many people from this many parts of the world. The coolest part is walking around you hear all the languages… you have know idea, it's not anything I have ever heard before."
One of the main attractions is the food.  The dining hall is open 20 hours a day and serves more than 35,000 meals per day.
"There are a lot of different countries and cultures," said redshirt freshman Kole Kampen. "It's nice to get out and experience this place. I love food… they have American food, Chinese food; pretty much whatever you want. It's a different culture outside the village." 
USA Team will practice at Taipei Tianmu Baseball Stadium later this afternoon.  The venue is the site of the first game against Mexico on Sunday at 5:30 a.m. (CT).