Hawkeye Fan Shop — A Black & Gold Store | 24 Hawkeyes to Watch – 2017-18 | Fight For Iowa | USA Team World University Games Central | Photo Gallery | Box Score (PDF)
 
 
By JAMES ALLAN
hawkeyesports.com
TAIPEI, Taiwan — USA Team broke a one-all tie with a two-run eighth inning before holding off Mexico for a 3-2 victory in its World University Games opener Sunday night at Tianmu Baseball Stadium.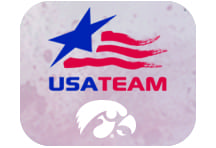 USA was held without a hit through the first seven innings before breaking through in the eighth.  Sophomore Ben Norman led off the inning, reaching on a hit by pitch before junior Robert Neustrom ripped a single to right field to put runners on the corners with nobody out.
 
After Neustrom stole second, senior Tyler Cropley's sacrifice fly gave USA a 2-1 lead and freshman Brett McCleary followed with an RBI single to left field, making the score 3-1.
 
Junior Zach Daniels (1-0) pitched two innings in relief, allowing one run on one hit and fanning two to pick up the victory.  Mexico's Umberto Pinl reached on double error issued to Daniels to start the ninth and scored on an RBI triple from Erik Ibarra. 
 
Daniels got Alejandro Pineda to fly out to centerfield for the final out, stranding the tying run at third base.
 
QUOTING USA TEAM HEAD COACH RICK HELLER
"This was a game we needed to win to hopefully get to the medal round.  Our hitters found a way to get it done. Robert (Neustrom) had a big hit with a runner moving in the eighth and (Brett) McCleary with the drawn in infield gets a base hit."
 
"Both teams set offense back about 30 years tonight. Their pitcher did a good job changing speeds and he was just wild enough that he was effective."
 
"All of us felt like if we stuck with the plan, it would come back around to us. (Mexico) gave us the first run and they were walking and hitting guys; we just needed somebody to give us a big hit."
 
On defense and five errors
"It was a great win, but a sloppy win, unfortunately. We had three pitcher errors and a dropped fly ball; that can't happen. That's stuff you don't see from our team too often. Hopefully we got it out of our system. We have a day to recover and get ready to play Tuesday night."
 
On starting pitcher Brady Schanuel
"Brady did a great job. He had some issues and fought out of some jams early, but when he was in the zone, he was good. His fastball was coming out well and he found his breaking ball in the third inning and brought us to the sixth. That's what we were hoping to get out of him."
 
QUOTING USA TEAM
 
Junior starting pitcher Brady Schanuel
"I felt good. I was a little nervous in the beginning, but I tried to settle in and throw strikes and try to beat it with my stuff. It was fun out there."
 
Senior catcher Tyler Cropley
"It seems like the eighth inning is always our inning, it was last year and we're carrying it over to this year already. The eighth inning something happens.
 
"Win No. 1 is big. You want to come and get the first one so in the next two you have a chance to keep winning."
 
USA TEAM NOTABLES
Three USA pitchers punched out 13 Mexico batters.  Junior Brady Schanuel had eight strikeouts (to four walks) over 5 1/3 innings and didn't surrender a hit.
USA held Mexico hitless through six innings. Vlises Munoz broke up the no-hitter to lead off the seventh.
Mexico's pitchers had five hit-by-pitches and four walks in the game.
USA Team scored its first run courtesy of a two-out rally in the fourth.  Grant Judkins and Kyle Crowl drew back-to-back walks before Matt Hoeg reached on a hit by pitch to load the bases.  Mitchell Boe followed with a walk against reliever Luis Urias to give USA a 1-0 lead.
USA won despite committing five errors; Iowa has never committed five errors during head coach Rick Heller's tenure.
UP NEXT
USA Team will have an off day Monday. The team will lift weights and hold a study table in the morning before venturing into Taipei for sight-seeing the remainder of the day/evening. 
 
The red, white, and blue return to the field Tuesday, facing Russia at 5:30 a.m. (CT) at New Taipei City Xinzhuan Baseball Stadium.
 
FOLLOW ON SOCIAL MEDIA
Stay up-to-date on all the happenings with the Iowa baseball program on social media via Twitter (@UIBaseball), Instagram/UIBaseball, and Facebook/IowaBaseball.