Hawkeye Fan Shop — A Black & Gold Store | 24 Hawkeyes to Watch – 2017-18 | Fight For Iowa | USA Team World University Games Central | Photo Gallery | Box Score (PDF)
 
 
By JAMES ALLAN
hawkeyesports.com
TAIPEI, Taiwan — USA Team got a solid first career start from freshman Jack Dreyer and an early three-run home run, but Japan roughed up the USA bullpen in an 11-5 victory to close out Pool B play Wednesday afternoon at Tianmu Baseball Stadium.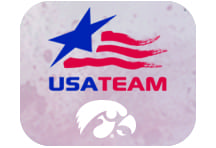 USA finishes Pool B play with a 2-1 record, moving it on to the medal round as the No. 2 seed. 
 
The Americans jumped out to a 3-0 lead in the second inning, courtesy of a three-run home run from senior Matt Hoeg.  Japan got an unearned run back in the fourth before taking control in the fifth when Keita Nakagawa connected on a grand slam against reliever Kyle Shimp.
 
Dreyer allowed one unearned run on one hit over four innings and he fanned a pair. Japan's Nakagawa was the difference maker, as the second baseman finished 2-for-4 with seven RBIs in the game.
 
QUOTING USA TEAM HEAD COACH RICK HELLER
"The game started extremely well for us; Jack in his first start, pitched great against a good team. He gave us a chance to win. Matt Hoeg hit a big three-run home run, which is what we needed.  We were playing good baseball, but unfortunately we made the pitching change and the wheels fell off."
 
"We had some experienced guys come in and weren't even competitive; that was disappointing. Free bases today, the second half of that game, was disappointing. That is a game if we just play average baseball, we probably win 4-2 and we're sitting here happy. That was not the case, we made a lot of mistakes and walked a lot of guys, and against a good team like Japan that leads to a loss."
 
On moving forward
"We have to get rested up. It was a quick turnaround from last night, we were back on the road at 7:30 a.m. Our mental toughness needs to get better; it wasn't very good the second half of that game. If we're going to be a team that can compete for a Big Ten title, we have a long ways to go from what we showed today."
 
USA TEAM NOTABLES
Hoeg's home run in the second inning gave USA a 3-0 lead.  It was the team's first home run of the World University Games.
USA finished with eight hits; sophomore Lorenzo Elion tallied a multi-hit game, finishing 2-for-4 with a double and RBI.
After getting a strong start from Dreyer, USA's bullpen struggled. Japan tagged Shimp with the loss, as the southpaw surrendered five runs (four earned) on three hits in one inning of relief.
Junior Shane Ritter was the only USA reliever (of four used) not to surrender a run; he went 1 1/3 innings of hitless relief, punching out two of the four batters he faced.
UP NEXT
USA will face the top seed from Pool A on Friday at 5:30 a.m. (CT) at Tianmu Baseball Stadium. The Czech Republic has punched one ticket to the medal round, while South Korea and host Chinese Taipei will square off tonight for the pool's second spot.
 
FOLLOW ON SOCIAL MEDIA
Stay up-to-date on all the happenings with the Iowa baseball program on social media via Twitter (@UIBaseball), Instagram/UIBaseball, and Facebook/IowaBaseball.