Hawkeye Fan Shop — A Black & Gold Store | 24 Hawkeyes to Watch – 2017-18 | Fight For Iowa | USA Team World University Games Central | Photo Gallery | Box Score (PDF)
 
 
By JAMES ALLAN
hawkeyesports.com
TAIPEI, Taiwan — USA Team plated four ninth-inning runs to rally for a 6-4 victory over Korea in a Super Round World University Games match-up Saturday afternoon at Tianmu Baseball Stadium.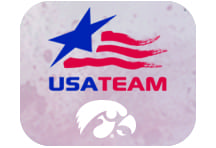 USA finishes pool play and the Super Round with a 4-1 record. The Americans will be the No. 2 seed and face the Czech Republic on Sunday at 10 p.m. (CT) — 11 a.m. on Aug. 28 Taiwan time — in the semifinals.   
 
Trailing 4-2 heading into the ninth, USA loaded the bases on consecutive singles from senior Matt Hoeg and sophomore Kyle Crowl, and Mitchell Boe followed with a walk. After Korea went to the bullpen, junior Chris Whelan hit a full-count pitch against Chaeheung Choi into the left centerfield gap to clear the bases and give USA a 5-4 lead.
 
Sophomore Ben Norman added an RBI single, extending the USA lead to 6-4.
 
Junior Zach Daniels pitched a perfect ninth to notch the save and close out the victory.  Freshman Ben Probst (1-0) earned the victory, tossing two hitless innings, striking out two.
 
USA grabbed a 1-0 lead in the first on a towering solo home run from junior Robert Neustrom.  Korea tied the game in the second before USA regained the lead on a Crowl RBI single in the fourth.
 
The Koreans manufactured the game-tying run and took the lead on a USA error in the fifth and Korea pushed its lead to 6-4 on a solo home run from Bonhyeok Gu in the sixth.
  
QUOTING USA TEAM HEAD COACH RICK HELLER
"It was a great comeback in the ninth, I am proud of our team. It was a tough turnaround (after last night); we came out with a lot of energy and played hard. We had a lot of hits, but not a lot of runs; it was disappointing because we had opportunities to break it open in the first three or four innings, but we couldn't get the two-out hit."
 
"It looked like a game where we would out-hit them by six or seven and not get the win, but we found a way in the end and stuck with it. The reliever that came in for Korea did a nice job; he shut us down for four or five innings, but he ran out of gas in the ninth and we were able to take advantage of it."
 
"The lesson in this game is we were a little sloppy. We didn't make Korea have to work for their runs. We had eight or nine free bases through seven innings and all of them cost us. Korea only had one free base. We swung the bats just well enough today to find a way to get it done.  We had guys step up. This was a big win and is big for our club."
 
QUOTING USA TEAM
 
Junior Chris Whelan
"We have been known as a team going back to last year that battles back in the eighth and ninth innings. We had proof there against Ohio State in Big Ten play and nothing has really changed in the University Games.
 
On ninth inning at-bat, 3-2 count, bases loaded
"I was trying to keep it as simple as possible, trying to go the other way with it and hit something in the air to get a sacrifice fly on. He hung a slider and I was fortunate to find the gap."
 
USA TEAM NOTABLES
USA's offense out-hit Korea, 14-5, in the game with five players posting multi-hit games. The 14 hits matches the team's World University Games high. USA had 14 hits in its win over Russia.
Sophomore Lorenzo Elion led the team with three hits, finishing 3-for-4 with a run scored.  Whelan (2-for-5, 3 RBIs), Norman (2-for-5, RBI), Neustrom (2-for-5, HR, 2B, run, RBI), and Crowl (2-for-4, run, RBI) all had two hit games.
Eight of Iowa's nine starters had at least one hit and six difference players scored runs.
Five pitchers saw action for USA, limiting Korea to five hits.  The pitchers had seven strikeouts to four walks in the contest.
Sophomore Grant Judkins went three innings in the start, allowing one run on three hits. Probst went two innings in his first appearance as a Hawkeye.
UP NEXT
The United States will be the No. 2 seed in the semifinals and will square off against the Czech Republic on Sunday at 10 p.m. (CT) (Monday at 11 a.m. -Taiwan time).  The Americans are 2-0 against the Czechs, winning an exhibition game last week and 8-0 on Friday.
 
Super Round Medal Round Bracket:
No. 2 USA vs. No. 3 Czech Republc — Sunday – 10 p.m. (CT)
No. 1 Japan vs. No. 4 Korea – Sunday – 5:30 a.m. (CT)
 
FOLLOW ON SOCIAL MEDIA
Stay up-to-date on all the happenings with the Iowa baseball program on social media via Twitter (@UIBaseball), Instagram/UIBaseball, and Facebook/IowaBaseball.