Hawkeye Fan Shop — A Black & Gold Store | 24 Hawkeyes to Watch 2016-17 | Fight For Iowa | Hawk Talk Monthly — September 2017
WILLIAMSBURG, Va. — University of Iowa freshman Yufei Long won her singles debut on Friday, defeating Charlotte Madson of William and Mary in straight sets, 6-1, 6-1, at the Tribe Invite in Williamsburg, Virginia. 
 
Anastasia Reimchen and Danielle Bauers also picked up a doubles win for the Hawkeyes. The pair defeated Madson and Natalia Perry of William and Mary, 7-6 (5).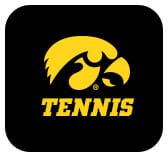 NOTEABLES
Three Hawkeyes made their collegiate debuts: Danielle Burich, Bauers, and Long. 
Bauers joined Riemchen to record her first career doubles victory.
 
QUOTES FROM COACH SCHMID
"We played a good William and Mary team today. I thought we competed well, we're just short on some key points that would turn the sets and matches in our favor. That is what we are here for, to play good teams and learn. I am looking forward to getting back out to compete tomorrow."
 
TOMORROW
The Hawkeyes are back in action at 1 p.m. (CT) Saturday against Old Dominion at the Tribe Invite. Results will be posted at hawkeyesports.com. 
 
BOX SCORES
 
Singles
1.     Clara Tanielian (W&M) def. Zoe Douglas (Iowa): 6-4, 6-4
2.     Olivia Thaler (W&M) def. Anastasia Reimchen (Iowa): 6-4, 6-4
3.     Yufei Long (Iowa) def. Charlotte Madson (W&M): 6-1, 6-1
4.     Natalia Perry (W&M) def. Adorabol Huckleby (Iowa): 6-3, 6-3
5.     Rosie Cheng (W&M) def. Montana Crawford (Iowa): 6-2, 6-4
6.     Cecily Wuenscher (W&M) def. Danielle Bauers (Iowa): 6-3, 7-6 (3)
7.     Lauren Goodman (W&M) def. Danielle Burich (Iowa): 6-3, 6-3
 
Doubles 
1.     Stepanova/Tanielian (W&M) def. Douglas/Huckleby (Iowa): 6-3
2.     Goodman/Thaler (W&M) def. Long/Burich (Iowa): 7-5
3.     Reimchen/Bauers (Iowa) def. Madson/Perry (W&M): 7-6 (5)