Hawkeye Fan Shop — A Black & Gold Store | 24 Hawkeyes to Watch 2016-17 | Fight For Iowa | Hawk Talk Monthly — September 2017
WILLIAMSBURG, Va. — University of Iowa freshman Danielle Burich recorded her first career singles victory Sunday on the final day of the Tribe Invite in Williamsburg, Virginia. Burich beat Chuang Guan of Dartmouth in straight sets, 6-4, 6-3.
 
The Hawkeyes also picked up a pair of doubles wins. Zoe Douglas teamed up with Yufei Long to win their match 6-1, and Anastasia Reimchen teamed with Adorabol Huckelby to win 6-3.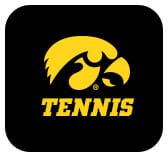 NOTEABLES
Reimchen extends her doubles win streak to 3-0. She paired with Danielle Bauers on Day 1 and Huckleby on Day 2 and 3.
Freshman Danielle Burich earned her first collegiate singles win
 
QUOTING COACH SASHA SCHMID
"Overall we played a great level of tennis this weekend. It is really helpful as a coach to see the team compete this early against high level opponents. We will build upon the tennis from this tournament. Half of the team will be competing in Milwaukee next weekend, and Elise van Huevelen and Zoe Douglas are getting ready for All Americans at the end of the month."
 
UP NEXT FOR THE HAWEYES
The Hawkeyes head to Milwaukee, Wisconsin for the Milwaukee Tennis Classic on Thursday.
 
TRIBE INVITE DAY 3
 
SINGLES
Kristina Mathis (Dartmouth) def. Zoe Douglas (Iowa): 6-3, 6-1
Julia Schroeder (Dartmouth) def. Yufei Long (Iowa): 6-4, 7-6 (5)
Abigail Chiu (Dartmouth) def. Anastasia Reimchen (Iowa): 6-4, 6-3
Racquel Lyn (Dartmouth) def. Adorabol Huckleby (Iowa): 6-3, 0-6, 6-1
Maddie Hwang (Dartmouth) def. Montana Crawford (Iowa): 6-3, 6-3
Allison McCann (Dartmouth) def. Danielle Bauers (Iowa): 6-4, 6-1
Danielle Burich (Iowa) def. Chuang Guan (Dartmouth): 6-4, 6-3
 
DOUBLES
Douglas/Long (Iowa) def. Schroeder/Chiu (Dartmouth): 6-1
Reimchen/Huckleby (Iowa) def. Mathis/Chuang (Dartmouth): 6-3
Lyn/McCann (Dartmouth) def. Crawford/Burich (Iowa): 6-2