Hawkeye Fan Shop — A Black & Gold Store | 24 Hawkeyes to Watch 2016-17 | Fight For Iowa | Hawk Talk Monthly — September 2017
WILLIAMSBURG, Va. — The University of Iowa women's tennis team picked up a pair of wins in both singles and doubles on Day 2 of the Tribe Invite on Saturday. 
Yufei Long won in straight sets, 6-3, 6-4 at No. 2 singles position and Montana Crawford won 7-5, 6-4, at No. 5 singles. Long teamed with Zoe Douglas to win 6-3 at the top doubles spot. Anastasia Reimchen teamed with Adorabol Huckleby to win to win 6-2 at No. 2 doubles. 
 
NOTEABLES 
· Reimchen improved to 2-0 in doubles. She teamed with Danielle Bauers for a win on Day 1 and partnered with Adorabol Huckleby for a win Saturday. 
· Yufei Long improved to 2-0 in her collegiate career, both straight-set victories.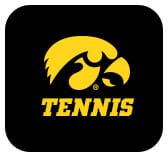 QUOTING COACH SASHA SCHMID 
"We improved our tennis today. We fought hard in each match, so this was a great experience for the team." 
"Yufei has been doing well. She's been competing hard and as a result she earned wins in both singles and doubles." 
TRIBE INVITE DAY 2 
SINGLES 
1. Hutchinson (ODU) def. Zoe Douglas (Iowa): 6-0, 6-2 
2. Yufei Long (Iowa) def. Olivarez (ODU): 6-3, 6-4 
3. Starodubstewa (ODU) def. Anastasia Reimchen (Iowa): 1-6, 6-3, 6-1 
4. Vlasova (ODU) def: Adorabol Huckleby (Iowa): 6-1, 6-2 
5. Montana Crawford (Iowa) def. Rajkovic (ODU): 7-5, 6-4 
6. McLelland def. Danielle Bauers (Iowa): 2-6, 6-3, 6-0 
DOUBLES 
1. Douglas/Long (Iowa) def. Hutchinson/Starodubstewa (ODU): 6-3 
2. Reimchen/Huckleby (Iowa) def. Vlasova/Olivarez (ODU): 6-2 
3. Raykovic/McLelland/Raykovic (ODU) def. Crawford/Bauers (Iowa): 7-6 (4)