Hawkeye Fan Shop — A Black & Gold Store | 24 Hawkeyes to Watch – 2017-18 | Fight For Iowa
Editor's Note: The following first appeared in the University of Iowa's Hawk Talk Daily, an e-newsletter that offers a daily look at the Iowa Hawkeyes, delivered free each morning to thousands of fans of the Hawkeyes worldwide. To receive daily news from the Iowa Hawkeyes, sign up HERE.
By JAMES ALLAN
hawkeyesports.com
IOWA CITY, Iowa — There is season-opener-like excitement surrounding the University of Iowa soccer team.
 
After having their Big Ten Conference opener postponed on Sept. 15, the Hawkeyes will take the field Friday for the first time in 12 days, hosting No. 7 Penn State at 7 p.m. (CT) at the Iowa Soccer Complex.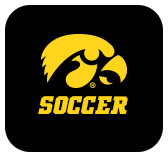 "It was a good mental break," said senior defender Corey Burns. "But once it got to be Monday or Tuesday, everybody on the team was like, 'Can we just play?'
 
"It was a good break; it got everybody more excited to play this weekend."
 
The layoff was good from a health standpoint and it also gave the Hawkeyes a chance to focus on the little things.
 
"It was beneficial in the sense that we were getting our bodies ready for a tough Big Ten season," said Burns. "As much fun as it wasn't for having our first game cancelled, we were able to get our fitness back up, get some girls back to being healthy, and get some girls the rest they needed.
 
"We had almost two weeks to work on things we didn't do well in the nonconference that need to be better in Big Ten play."
 
The Hawkeyes went 5-2 during their nonconference season.  Come Friday, it's a different animal.
 
"The margin for error is smaller in the Big Ten," said UI head coach Dave DiIanni. "Our scoring opportunities will still be there, but we have to be a lot more productive in the chances we get because 80 to 85 percent of the games in the league are ties or one-goal games."
 
Iowa won five early season games on the back of a potent offense that averaged 2.4 goals per game and a defense that posted three shutouts. The two losses came against No. 24 Notre Dame (2-0) and Loyola Chicago (3-0).
 
Burns says the Aug. 27 setback against Notre Dame is comparable to Big Ten action.  The Hawkeyes were competitive minus a 10-minute lull.
 
"We played so well against Notre Dame, but we had a 10 minute breakdown," said Burns. "Knowing that Big Ten teams are comparable to Notre Dame, stuff like that can't happen.  I know we're a good team and when we play for the full 90 minutes for each other, we can win games quality teams."
 
For the Hawkeyes to contend for a spot in the Big Ten Tournament — the top eight teams advance — DiIanni says it is imperative the Hawkeyes earn league points.
 
"It's important for us to focus one game at a time and get the maximum amount of points every game," said DiIanni. "Last year we didn't get any points in seven games; that adds up in a hurry.
 
"Even when you're not playing your best soccer, you have to try and get a point with a tie.  That will be important for us to understand.  None of these Big Ten games are going to be blow outs. We have to control what we can control."
 
Following the break, Burns believes the Hawkeyes are ready for the Big Ten grind.
 
"Going into this weekend mentally ready is huge for us," said Burns. "When we go into games mentally ready, we're able to beat teams of this caliber. Proving ourselves against these teams will give us the confidence to compete against every team in the Big Ten."
 
Following Friday night's matchup, Iowa hosts Ohio State at 1 p.m. on Sunday. Admission is free to both contests.