Hawkeye Fan Shop — A Black & Gold Store | 24 Hawkeyes to Watch – 2017-18 | Fight For Iowa
 IOWA CITY, Iowa — Five Black team pitchers no-hit the Gold team in a 3-2 victory in the opening game of the 2017 Black & Gold World Series on Wednesday afternoon at Duane Banks Field.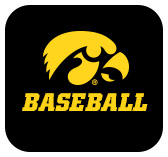 The five Black team pitchers struck out eight, but issued 10 walks in the game.  Junior Cole McDonald and sophomore Derek Lieurance combined to pitch six innings (three innings apiece), fanning seven, but issuing five walks.
 
The Gold squad plated single runs in the fourth and fifth innings courtesy of a pair of RBIs from junior Tanner Wetrich.  The Black squad cut the lead in half with a single run in the sixth before taking the lead with a two-run seventh.
 
The Black squad finished with seven hits against three Gold team pitchers. Sophomore Justin Jenkins and redshirt freshman Connor Lindaman had two hits apiece.  Lindaman was 2-for-3 with a double and two RBIs.
 
Junior Nick Allgeyer was strong in the start for the Gold team, allowing one hit over four innings and fanning five.
 
Game two of the World Series will begin Thursday at 3:30 p.m. (CT).