Hawkeye Fan Shop — A Black & Gold Store | 24 Hawkeyes to Watch – 2017-18 | Fight For Iowa
Editor's Note: The following first appeared in the University of Iowa's Hawk Talk Daily, an e-newsletter that offers a daily look at the Iowa Hawkeyes, delivered free each morning to thousands of fans of the Hawkeyes worldwide. To receive daily news from the Iowa Hawkeyes, sign up HERE.
By JAMES ALLAN
hawkeyesports.com
IOWA CITY, Iowa — It was an unorthodox fall for the University of Iowa baseball team, but that doesn't mean the Hawkeyes didn't make progress.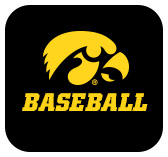 Iowa finished off its fall season Friday when the Gold team claimed the annual Black & Gold World Series.  It concluded an offseason training program that began in July when the Hawkeyes returned to campus to begin preparations for the World University Games in Taiwan.
 
Competing as the USA National team, Iowa won a silver medal, becoming the first American team to earn a medal in Universiade history.
 
"The experience we gained in Taiwan can't be duplicated or replicated," said Iowa head coach Rick Heller. "It gave us a jumpstart on the fall. We are ahead in our development with most of our young players and the leadership our older players had heading to Taiwan led to a great fall."
 
It was a crucial time for the Hawkeyes, coming off a 39-win season that included a Big Ten Tournament title and the program's second NCAA Regional appearance in three seasons.
 
"We made steady improvement in all areas," said Heller. "This is going to be a different team (in 2018). There is no Jake Adams to hit 30 home runs and we lost Mason McCoy, Nick Gallagher, C.J. Eldred, and Ryan Erickson.
 
"A lot of guys are going to have to step up. We have a lot of talented kids, but they're going to have to do a good job moving into their new roles."
 
Heller was impressed with the Hawkeyes' newcomers throughout the fall, and he was pleased to see returnees take steps forward. 
 
"The freshmen and new players have come in and made quick improvement," said Heller. "Lorenzo (Elion) did a nice job overseas and has made big improvements on the defensive side, and Zion (Pettigrew) has swung it well and his defense is improving steadily.
 
"Luke Farley has had a good second half of the fall. He didn't go to Taiwan because of class situations, but he is a guy we know has a chance to provide power and offense and he has been showing that for the first time in a consistent manner this fall."
 
Elion, a junior college transfer from Kirkwood Community College, started five of six games in Taiwan, where he finished second on the team with a .364 average, two doubles, and four runs. Pettigrew is challenging for playing time at second base.
 
One of the candidates to replace McCoy at shortstop — sophomore Kyle Crowl — had one of the Hawkeyes' most impressive offseasons.
 
"Crowl was a completely different player when he came back in July; he was more mature and consistent and was better offensively and defensively," said Heller. "He was the most improved player on our team."
 
Crowl started all seven World University Games at shortstop, where he hit .333 with five runs and an RBI.
 
Heller credited Desi Druschel for providing a smooth transition with the Iowa pitching staff.  Druschel replaced Scott Brickman as the program's pitching coach after being the team's director of baseball operations the past three seasons.   
 
"Desi did a nice job of bringing the pitchers together and letting them know things were going to go in a positive way," said Heller. "He did a good job of meshing pitchers in their development."
 
Juniors Nick Allgeyer and Cole McDonald made fall pushes to join the Hawkeyes' weekend rotation in 2018.  Allgeyer, recovering from Tommy John surgery, posted a 1.93 ERA in two Taiwan appearances, while McDonald tossed Iowa's first nine-inning no-hitter since 1965 against the Czech Republic.
 
"Allgeyer's story is impressive," said Heller. "We were hoping not to take him to Taiwan, but his rehab was going so well, his velocity and command were up, and his secondary stuff was playable. He did a great job.
 
"Cole is coming into his own. He had a great performance in Taipei before having some time off. In the second half of the fall, he has been good."
 
Heller has also seen flashes on the mound from the freshmen quartet of Jack Dreyer, Ben Probst, Trenton Wallace, and Cam Baumann.
 
"They have thrown well and give us hope that they can come in and have decent roles as freshmen," said Heller.
 
With the on-field team portion of workouts complete until January, Heller says the next three months will be crucial in building toward the 2018 season.
 
"This is the time in the weight room where the guys get after it and they're working hard together," said Heller. "(Strength coach Zach) Walrod will do a good job of continuing that building process of the team coming together.
 
"Working hard is the best thing you can do to motivate because then the guys feel like they deserve to be successful. This offseason program and conditioning is a big part of our program's success."