Hawkeye Fan Shop — A Black & Gold Store | Hawk Talk Monthly — October | Photo Gallery | Fran McCaffery Transcript (PDF)
By DARREN MILLER
hawkeyesports.com
IOWA CITY, Iowa — The University of Iowa men's basketball roster boasts size and length: 10 Hawkeyes stand 6-foot-7 or taller.
 
There is also depth, with 12 lettermen and four starters returning from a team that went 19-15 and tied for fifth in the Big Ten Conference a year ago.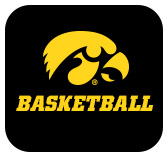 For head coach Fran McCaffery, one of his key duties will be determining how to carve playing time for a rotation that could go 13 deep.
 
Iowa returns starters Jordan Bohannon, Tyler Cook, Isaiah Moss, and Ahmad Wagner who combined to average 34.5 points and 12.5 rebounds a game last season. The other eight letterwinners averaged 32.4 points and 21.4 rebounds a game. Production isn't limited to the first five Hawkeyes who will see the court for any given game.  
 
"We are equally good with whoever we bring off the bench, and I think that's exciting," McCaffery said Monday at his Media Day news conference inside Carver-Hawkeye Arena. "I have complete confidence in those guys and they know that I'm going to try to do the best job I can to distribute playing time accordingly."
 
Another question for McCaffery is when to call the number of junior Nicholas Baer. Last season Baer brought energy, 7.5 points, 5.8 rebounds, and 1.7 assists off the bench. He was recognized as Big Ten Sixth Man of the Year. Does McCaffery retain the luxury of having Baer as the first substitute, or does he insert the 6-foot-7 forward into the starting lineup?
 
"I'm still thinking about that," McCaffery said. "(Baer) probably deserves a start, and that's typically what I've done. We have other guys that are playing well, so we could give ourselves that instant spark off the bench in Nicholas Baer, who was clearly the best player in the Big Ten in that capacity last year. He earned that award for a reason."
 
Two freshmen — forwards Luka Garza and Jack Nunge — add versatility and McCaffery sees both as game-ready. Garza (6-11, 235 pounds) averaged 22.5 points and 10.3 rebounds per game during the Hawkeyes' four-game summer tour in Europe. Nunge (6-11, 225) contributed 6.8 points, 5.3 rebounds, and a team-leading 1.75 blocked shots.
 
"Both of them are tremendous players," McCaffery said. "They come ready, it's not like we have to develop them. They can dribble, pass, and shoot. When you have two 6-11 guys that can do all those things, then you have high expectation for them and they're going to be right in the middle of it."
 
Expectations are high for the team as well. Iowa has posted six consecutive winning seasons that have resulted in six straight trips to postseason play. In the last five seasons, the Hawkeyes have won 52 Big Ten games.
 
"I think you want expectations, you want your fans to be excited about your team," McCaffery said. "It's not something that ever concerns me or it's not something I've ever shied away from. I don't get up here and try to present a doom-and-gloom (outlook), so that if we do win games, then we create the perception that we somehow overachieved. I have an expectation for that team. I think they have an expectation for themselves, and I'm excited about it."
 
After two weeks of practice, McCaffery is still letting players establish themselves on the court. He doesn't anticipate any returning starter losing his spot, "but we have a lot of guys who can play and that's the most important thing," he said.
 
Sophomore forward Cordell Pemsl, who had offseason surgery to repair a sports hernia, has trimmed more than 20 pounds and McCaffery says he is playing his best basketball. Last season Pemsl averaged 8.9 points and 5.0 rebounds and shot 61.7 percent from the field.
 
On Monday, Bohannon (10.9 points, 5.1 assists per game, 89 3-point field goals) was named to the 20-player watch list for the Bob Cousy Point Guard of the Year Award.
 
"It's going to be a different challenge for him because he'll be a marked man," McCaffery said. "They're going to chase him around, but they did that some as the season progressed. It's not something he hasn't seen before, he's just going to have big, strong athletes that are going to wear him down.
 
"But he's that relentlessness about him. He's smart, quick, tough, and has an incredible ability to make shots, especially under pressure. I'm excited about him in that process, to take that next step and see where he ends up."
 
Iowa opens the season Oct. 27 with an exhibition against William Jewell.