Hawkeye Fan Shop — A Black & Gold Store | 24 Hawkeyes to Watch 2016-17 | Fight For Iowa | Hawk Talk Monthly — September 2017
LAWRENCE, Kansas — The University of Iowa women's tennis team picked up four singles wins and three doubles wins on the first day of the ITA Central Regionals in Lawrence, Kansas on Thursday. 
 
Three Hawkeyes won their first singles matches in straight sets. No. 6 seed senior Zoe Douglas beat Darby Rosette from Creighton, 6-3, 6-2. No. 10 seed sophomore Elise Van Heuvelen defeated River Hart from Minnesota, 6-3, 6-3. No. 25 seed freshman Yufei Long topped her opponent Alessandra Thompson from Southeast Missouri State, 6-1, 6-1, and Montana Crawford won her match in a third set tie breaker, 7-6, 4-6, 7-5. 
 
The Hawkeyes also recorded three first round doubles wins. Seniors Anastasia Reimchen and Crawford won against Brandt and Wijesinghe of Bradly University, 8-4. Junior Adorabol Huckleby and Long defeated Nylund and Lazarevic of South Dakota, 8-4. Douglas and van Heuvelen topped Torrico and Bosechen of Michigan State, 8-4.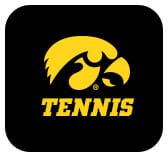 The Hawkeyes play Friday in the singles round of 64, and doubles round of 32. Consolation rounds will also begin Friday. 
 
Results will be posted on hawkeyesports.com and at kuathletics.com. 
 
Head Coach Sasha Schmid:
"It was a good day for us to see our tennis progressing and the level improving. Now we need to manage our matches better once we get in positions to close out sets and win matches. We are looking forward to more opportunities to improve and compete tomorrow."
 
 
SINGLES — ROUND OF 128 (# indicates tournament seed)
Marta Bellucco (Wichita State) def. Anastasia Reimchen (Iowa): 6-3, 1-6, 6-2
#10 Elise van Heuvelen (Iowa) def. River Hart (Minnesota): 6-3, 6-3
#25 Yufei Long (Iowa) def. Alessandra Thompson (SEMO): 6-1, 6-1
 #19 Carolina Costamagna (Kansas State) def. Danielle Bauers (Iowa): 6-4, 6-2
 Montana Crawford (Iowa) def. Amber Policare (Kansas): 7-6, 4-6, 7-5
#6 Zoe Douglas (Iowa) def. Darby Rosette (Creighton): 6-3, 6-2
#24 Tina Kreinis (Minnesota) def. Danielle Burich (Iowa): 7-6, 6-4
#28 Gabriela Porubin (Wichita State) def. Adorabol Huckleby (Iowa): 6-4, 6-2
 
SINGLES – ROUND OF 64 (FRIDAY)
 #10 Elise van Huevelen (Iowa) vs. Christie Brigante (Oklahoma)
#25 Yufei Long (Iowa) vs. Tess Herder (Drake)
#6 Zoe Douglas (Iowa) vs. Caitlyn Merzbacher (Minnesota)
Montana Crawford vs. #17 Margot Decker (Kansas State)
 
DOUBLES – ROUND OF 64
Reimchen/Crawford def. Brandt/Wijesinghe (BU): 8-4
Huckleby/Long def. Nylund/Lazarevic (USD): 8-4
Douglas/van Heuvelen def. Torrico/Bosechen (MSU): 8-4
Decker/Turco (Kansas State) def. Burich/Bauers (Iowa): 8-1
 
DOUBLES – ROUND OF 32 (FRIDAY)
Reimchen/Crawford vs. Laskutova/Matoula (TU)
Huckleby/Long vs. Brigante/Sethi (OU)
Douglas/van Heuvelen vs. Herder/Petushkova (DU)
 
TOURNAMENT SCHUDULE
Thursday – Singles Round of 128 |Doubles Round of 64
Friday – Singles Round of 64 and 32 | Doubles Round of 32 | 1-2 Rounds of Consolation
Saturday – Singles Round of 16 | Doubles round of 16 and Quarterfinals | 1-2 Rounds of Consolation
Sunday – Singles Quarterfinals and Semifinals | Doubles Semifinals | 1-2 Rounds of Consolation
Monday – Singles Finals | Doubles Finals | 1-2 Rounds of Consolation