Hawkeye Fan Shop — A Black & Gold Store | 24 Hawkeyes to Watch 2016-17 | Fight For Iowa | Hawk Talk Monthly — September 2017
TALLAHASSEE, Fla. — The University of Iowa women's tennis team picked up one singles win and one doubles win on the first day of the Florida State All-Conference Showdown in Tallahassee, Florida on Friday. 
 
Freshman Danielle Bauers received a bye in the Osceola singles bracket and met with Matea Mihaljevic from Troy in the second round. Bauers beat her opponent in a three-set tie breaker, 6-2, 6-7, 7-5. 
 
Sophomore Elise van Heuvelen lost her first round match to Katarina Kozarov from Furman, 2-6, 6-3, 6-4. Junior Adorabol Huckleby dropped her first round to Marta Peris from Middle Tennessee State, 6-4, 7-6.  Senior Anastasia Reimchen lost in round one in a three-set tie breaker to Carol Kerman from Furman, 2-6, 7-6, 6-1. Freshman Danielle Burich also dropped her first round match, 6-0, 6-0, to Nandini Das from Florida State. 
Van Heuvelen and Huckleby paired up in the gold bracket to beat Weymouth and Lozarov from Furman, 8-6, and advance to the consolation final after dropping their first match to Matias and Serrano from Central Florida, 8-3.
 
Reimchen and Burich will compete for seventh place in the Garnet bracket after losing two close matches. The duo dropped their first match to Kermet and Zirilli from Middle Tennessee State, 8-6, and then lost to Rompf and Pick from Wisconsin, 
8-7.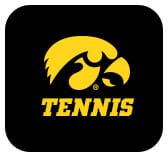 "After today everyone understands what they need to do on the court, it's just a matter of how well we can execute," said University of Iowa assistant coach Daniel Leitner. "The main thing to work on for the rest of the weekend is to manage the momentum of the matches better and close games and sets once we are in position to do so."
 
Two teams were added to the tournament Thursday, Western Kentucky from Conference USA and East Tennessee State University from the Southern Conference. 
 
The Hawkeyes continue action Saturday at 8 a.m. (CT). 
 
Results will be posted on hawkeyesports.com.
 
 
SINGLES: 
 
Gold Draw:
Round One
Katarina Kozarov (Furman) def. Elise van Heuvelen (Iowa): 2-6, 6-3, 6-4
 
Round Two (Saturday):
Elise van Heuvelen (Iowa) vs. Ioanna Markesini (ETSU)
 
Spear Draw
Round One:
Nandini Das (FSU) def. Danielle Burich (Iowa): 6-0, 6-0
 
Round Two (Saturday):
Danielle Burich (Iowa) vs. Hannah Seizer (Troy)
 
Seminole Draw
Round One:
Carol Kerman (Furman) def. Anastasia Reimchen (Iowa): 2-6, 7-6, 6-1
 
Round Two (Saturday):
Anastasia Reimchen (Iowa) vs. Anne Sophie Corteau (WVU)
 
Speicher Draw
Round One:
Marta Peris (MTSU) def. Adorabol Huckleby (Iowa): 6-4, 7-6
 
Round Two (Saturday):
Adorabol Huckleby (Iowa) vs. Nancy Karaky (Troy)
 
Osceola Draw 
Round Two: 
Danielle Bauers (Iowa) def. Matea Mihaljevic (Troy): 6-2, 6-7, 7-5 
 
 
DOUBLES:
 
Gold Draw
Round One: 
Matias/Serrano (UCF) def. Van Heuvelen/Huckleby (Iowa): 8-3
 
Round Two:
Van Heuvelen/ Huckleby (Iowa) def. Weymouth/Lozarov (Furman): 8-6
 
Round Three (Saturday):
Van Heuvelen/Huckleby (Iowa) vs. Jordan/Goetz (WVU) 
 
Garnet Draw
Round One: 
Kermet/Zirilli (MTSU) def. Reimchen/Burich (Iowa) 8-6
 
Round Two:
Rompf/Pick (UW) def. Reimchen/Burich (Iowa): 8-7
 
Round Three (Saturday):
Reimchen/Burich (Iowa) vs. Ferrett/Kerman (Furman)