Hawkeye Fan Shop — A Black & Gold Store | 24 Hawkeyes to Watch – 2017-18 | Fight For Iowa | 2018 UWW World Cup | Season Tickets | Hawk Talk Monthly — November 2017
Editor's Note: The following first appeared in the University of Iowa's Hawk Talk Daily, an e-newsletter that offers a daily look at the Iowa Hawkeyes, delivered free each morning to thousands of fans of the Hawkeyes worldwide. To receive daily news from the Iowa Hawkeyes, sign up HERE.
By JAMES ALLAN
hawkeyesports.com
IOWA CITY, Iowa — You could say Alex Marinelli was antsy during his true freshman season with the University of Iowa wrestling program.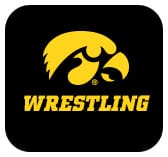 There was an on-again, off-again debate throughout the season as to whether the Miamisburg, Ohio, native would wrestle or redshirt. Iowa head coach Tom Brands and Marinelli decided on the latter.
 
But the what-ifs crept into Marinelli's mind in March during the NCAA Championships. He watched as Penn State's Mark Hall claimed the 174 pound national title as a true freshman — two months after pulling his redshirt in a dual against the Hawkeyes.
 
"You see those guys (win) and you want to do that," said Marinelli.  "I was antsy, but Tom (Brands), Terry (Brands) and (Ryan) Morningstar helped me have a positive outlook.
 
"You can't let those things get to you mentally. I think being positive and knowing my time will come and that I would improve. That's where the trust factor comes in. You don't let it bug you that you're sitting on the bench or redshirting. It isn't a big deal."
 
Marinelli won two open tournaments, claiming the Grand View and Missouri Valley College Opens last season. He also placed fourth at the Midlands Championships and finished the year with a 13-2 record. His losses came to the No. 1 and No. 12 ranked opponents.
 
Throughout his redshirt season, Marinelli focused on fundamentals. The coaches stressed good position, staying in his stance, shooting with two hands to the leg, moving his feet, staying low, and defending shots.
 
That focus has carried over into Year 2, where Marinelli is slated to become the Hawkeyes' starting 165 pounder.
 
"We've been talking about (Alex) for a long time," said Brands. "We're excited about him and I know our fans are as well."
 
The excitement comes from Marinelli's prep resume, where he was a four-time Ohio state champion.  He was one of the top recruits nationally out of St. Paris Graham High School, going undefeated as a junior and senior and finishing with a 200-4 career record.
 
On paper, Iowa is an unknown for the 2017-18 season, but Marinelli doesn't want to hear talk of a rebuilding year in Iowa City. The team returns two All-Americans, but he says it isn't in the program's DNA to rebuild.
 
"The expectations aren't high because we have a young team," said Marinelli. "You have to look at what our team is, we're young, but we're elite. We're all good, we're all tough, and we all want to get better. The expectations aren't high because of what has been going on.
 
"People say it's a building year, but it's not. We're going to be contenders.  We're all tough and elite, and we've all been there."
 
The Hawkeyes open the season Saturday, sending competitors to the Luther Open in Decorah, Iowa. Marinelli will make his official Iowa debut Nov. 17 when the Hawkeyes host Iowa Central Community College, Buffalo, and North Dakota State in the Iowa City Duals.