Hawkeye Fan Shop — A Black & Gold Store | 24 Hawkeyes to Watch 2017-18 | Fight For Iowa
Editor's Note: The following first appeared in the University of Iowa's Hawk Talk Daily, an e-newsletter that offers a daily look at the Iowa Hawkeyes, delivered free each morning to thousands of fans of the Hawkeyes worldwide. To receive daily news from the Iowa Hawkeyes, sign up HERE.
By RICK BROWN
hawkeyesports.com
IOWA CITY, Iowa — Freshmen Luka Garza and Jack Nunge have made strong first impressions just two games into the 2017-18 men's basketball season at the University of Iowa.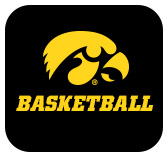 That's hardly a surprise to head coach Fran McCaffery.
 
 "You don't always know what a guy is going to do under pressure," McCaffery said of his 6-foot 11-inch bookends.  "But I watched those guys (in high school and AAU games) under a lot of difficult situations."
 
And the coach saw nothing that made him question their college potential.
 
"They are both so smart and skilled that they know what to do," McCaffery said.
 
Through two games, Garza leads the Hawkeyes in both scoring (13.5 points) and rebounding (9.0).  He also has a team-best five blocked shots.
 
"The thing I'm most happy about is the two wins," said Garza, Iowa's starting center. "I'm not going to get too high or too low on any stat number."
 
Nunge is averaging 8.0 points and 4.5 rebounds off the bench, and has used his length to make a team-best seven steals.
 
"Before the first game there were some nerves," Nunge said. "Some butterflies with the season starting. But once I got on the court, it went away. You realize you're just playing basketball."
 
Freshmen were one of the leading storylines during the 2016-17 season. Rookies Tyler Cook, Jordan Bohannon, and Cordell Pemsl were three of the Hawkeyes' top four scorers. Add Isaiah Moss and the quartet accounted for 44.7 percent of the offense. And Ryan Kriener was the fifth freshman to score at least 14 points in a game.
 
So freshmen making a big impact is not without precedent during McCaffery's eight-season coaching watch. But when Garza scored 16 points and Nunge 10 in a 95-62 victory over Chicago State Friday, it marked the first time McCaffery had ever had two freshmen reach double figures in their Hawkeye debuts.
 
Garza then recorded the first double-double of his college career in Sunday's 92-58 victory against Alabama State, finishing with 11 points and 13 rebounds. Five of those rebounds were on the offensive glass.
 
"He has that uncanny ability to know exactly where the ball is coming off," McCaffery said. "He's always where the ball is. He has great instincts, long arms, , and is physical, tough, and relentless. All the qualities you want from an offensive rebounder."
 
Garza said coaches and family members stressed to him at a young age how important offensive rebounding was.
 
"One of the things I pride myself in is offensive rebounding," Garza said. "It's all about effort."
 
Garza was on pace to set some history of his own in Friday's opener. He needed four more points to set a school record for the biggest offensive game turned in by a freshman in his first game.
 
Dick Ives first set the record against Nebraska in the 1943-44 season opener by scoring 19 points. Sixty-eight seasons later, Aaron White came off the bench and scored 19 points against Chicago State in the 2011-12 season opener.
 
But Garza never got a chance to put his name in the record books. McCaffery took his starters out with 15 minutes, 26 seconds to play, giving his bench some valuable experience.
 
Garza, Nunge, and White are three of seven freshmen in the McCaffery era to reach double figures in their first game at Iowa. Pemsl did it last season, Peter Jok in 2013-14, Adam Woodbury in 2012-13, and Zach McCabe in 2010-11.
 
The last time Iowa had two freshmen score in double figures in their first games came in 2009-10. Eric May scored 13 points and Cully Payne 12 against Texas-San Antonio.
 
Garza and Nunge met for the first time in early September of 2016. Nunge was making his official campus visit to Iowa. Garza was making an unofficial visit. Both verbally committed to the Hawkeyes that weekend.
 
And now, two games in, they've played well, but they have not surpassed McCaffery's expecations for them.
 
"I knew they were both really good," McCaffery said.